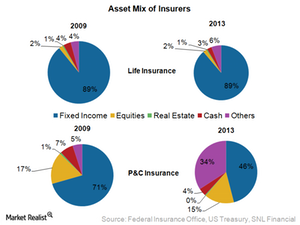 An insurer's investments: Dominated by debt securities
By Sean Millard

Nov. 19 2019, Updated 6:14 p.m. ET
A bond-heavy balance sheet
A large portion of an insurer's balance sheet contains lower-risk assets such as government bonds and high-grade corporate bonds. While these classes of assets provide certainty of returns to an insurer, the yield obtained from these investments is much lower than other classes of assets.
The above chart shows the trends in the investment asset mix for life and P&C insurers. The investment portfolio of life insurance businesses has remained fairly stable over the years, with a slightly higher allocation toward other investments in 2013 compared to 2009. On the other hand, P&C insurers have experienced changes over the last five years, with increased allocation toward riskier asset classes such as equities and other investments.
Article continues below advertisement
Portfolio segregation
For life insurance companies such as MetLife (MET), Prudential Financial (PRU), AFLAC (AFL), and Principal Financial (PFG), investment goals for assets related to various policies may differ significantly. In these cases, certain insurance products such as unit-linked products are investment contracts, and they are purchased for obtaining higher returns.
For example, a large portion of the assets backing traditional life insurance policies are invested in high-grade bonds. On the other hand, contracts with an investment component see a significant allocation to higher yield assets like equities to maximize returns. Because of these distinctions, life insurers, represented by the SPDR S&P Insurance ETF (KIE), manage these investment assets in different accounts.
The assets backing traditional policies are managed in the general account. However, the other investment-oriented products' assets—where the policyholder bears the risk—are managed in separate accounts. In the above chart, we show the growth in general account and separate account assets in the US life insurance sector.
The growth of separate account assets overtook the growth rate of general account assets in the years of strong equity market performance, when investment-oriented products remained popular. At the end of 2013, $2.3 trillion assets of the life and health insurance sector was held in separate accounts, out of a total asset base of $5.8 billion.