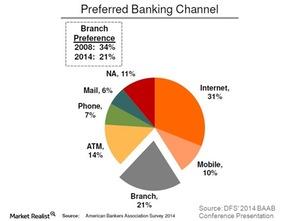 Why is Discover Financial focusing on direct consumer banking?
By Rekha Khandelwal, CFA

Jun. 25 2015, Updated 5:30 a.m. ET
Focus areas
Discover Financial's (DFS) top priority is to grow its card business. The card business is Discover's key segment. The company is taking every possible step to expand it more. Card loans grew ~5.6% in 2014—faster than the industry growth rate. Discover forms ~0.9% of the Financial Select Sector SPDR ETF (XLF).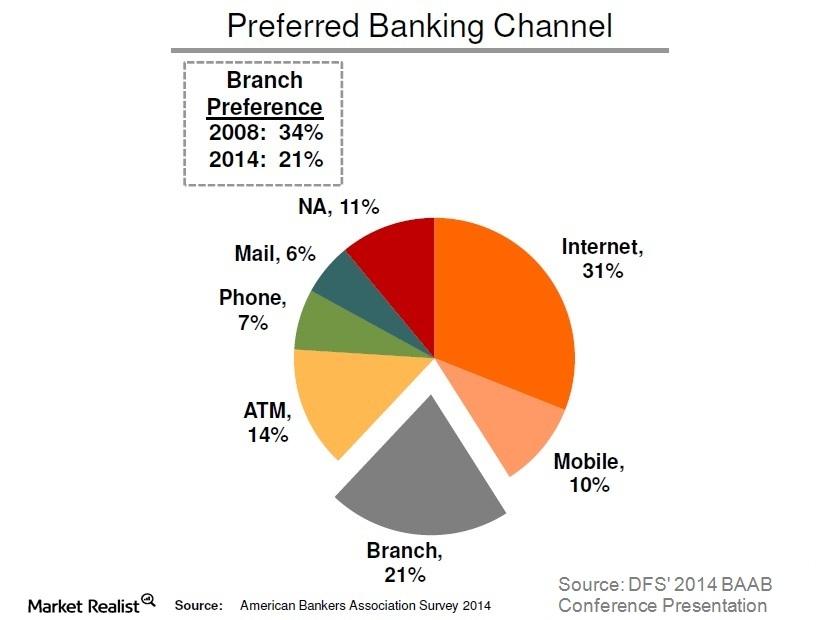 Another equally important task at hand for Discover is to grow its global network volume and acceptance. Although the acceptance of Discover Network is growing, Discover cards still aren't as widely accepted as MasterCard (MA) and Visa (V) cards. The company is entering into partnerships on an ongoing basis to expand its network reach.
Discover is making good progress in direct consumer banking. It focuses on private student, personal, and home equity loans. It also focuses on savings deposit products.
Article continues below advertisement
Direct consumer banking
Cards are the company's core offering. Then, Discover focuses on direct consumer banking. A direct bank doesn't have a branch network. It offers services remotely through online and telephone banking. The focus on direct banking is natural since Discover doesn't have a branch network.
It faces stiff competition in consumer banking products from larger banks. The larger banks have an edge over Discover due to their strong branch networks. American Express (AXP) also offers a few direct banking services through American Express Bank, FSB.
In contrast, Discover has a lower cost structure due to less investments in physical infrastructure—like branches. It has the opportunity to leverage its Discover and PULSE networks in direct banking services. Discover Network can be used to make credit card payments through Discover bank accounts. PULSE ATM or debit network can be leveraged in providing direct bank customers access to their accounts through ATMs.
Article continues below advertisement
Discover's strategy in this segment is to focus on "value-oriented" customers who are willing to pay higher fees for better service and convenience. It plans to use cross-sell opportunities, targeting its card customers for direct banking services. This also helps build deeper customer relationships.
Changing customer preferences
As shown in the above graph, customer preference shifted towards direct channels of banking. This goes well with Discover's strategy in the consumer banking segment. The segment offers Discover immense growth potential, but not without significant competitive challenges.