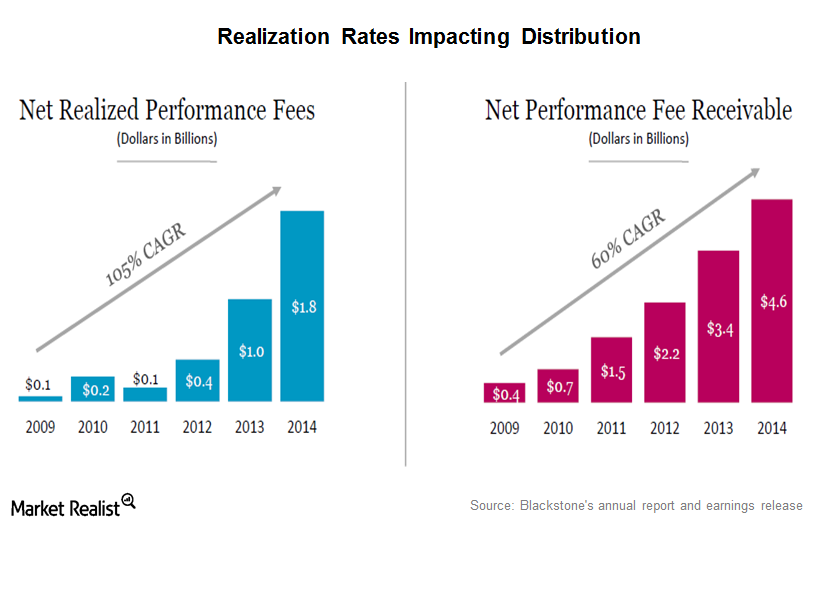 Blackstone uses realization rates to propel growth
By Robert Karr

Apr. 2 2015, Updated 6:06 p.m. ET
Countering challenges
One of the major factors to consider when reviewing the performance and expected future growth of private equity firms is the cost of acquiring new assets or companies and the leverage this deploys on the balance sheet.
Higher price-to-earnings multiples and enterprise value-to-EBITDA (earnings before interest, taxes, depreciation, and amortization) allow a firm to exit with good returns. But at the same time, the cost of acquisition rises. Higher costs of acquisition are funded mainly through debt, leading to higher leverage. This has been the challenge faced by Blackstone Group in the last couple of years. Yet, the company is mitigating this with constantly innovating strategies.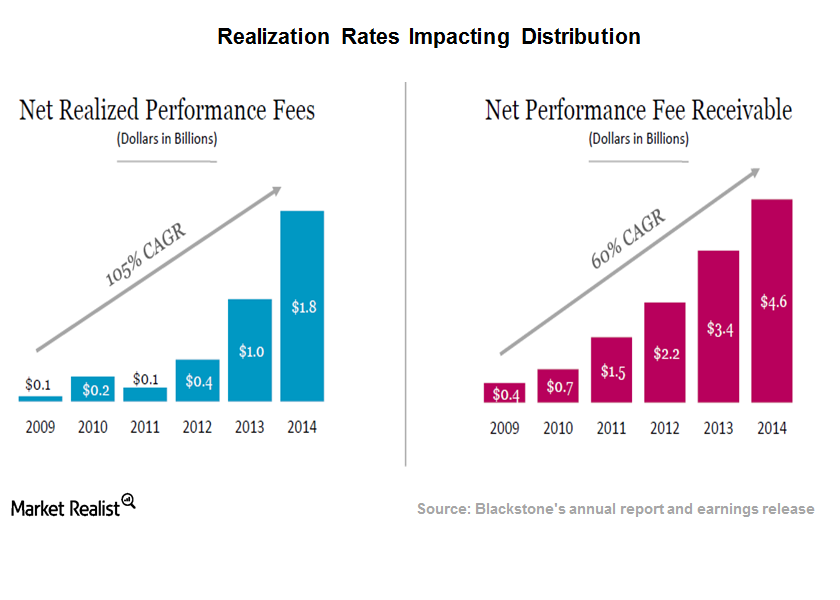 Article continues below advertisement
Blackstone Group (BX) has grown significantly in the last four years. Since 2011, it has added $200 billion to its assets under management. It has relied heavily on improving invested companies' operational performance and growing its portfolio of companies, rather than just buying at cheaper valuations. Blackstone has to constantly adapt to a changing environment, altering its portfolio in order to achieve targeted growth.
Scaling up realizations
The realization rate is the percentage of total net accrued performance fees attributable to investments sold for the year. Historically, Blackstone has had decent realization rates in the range of 45% to 55%.
The company has increased its net performance fee receivable for six consecutive years. Management is expecting to achieve a realization rate above 60% in 2015 due to heavy exposure to assets in public security and assets in liquidation. Higher realizations allow the company to return more capital to its limited partners. In turn, its limited partners have more to invest in Blackstone funds.
Enter retail investors
Traditionally, Blackstone has seen little participation from retail investors. In 2013, however, the firm launched its first retail mutual fund. There's also a good chance the company will attract retail investors to its close-end funds, REITs, and ETFs.
It faces competition in ETFs from BlackRock (BLK), State Street (STT), and Morgan Stanley (MS). Combined, these companies make up 4.39% of the Financial Select Sector SPDR Fund (XLF).