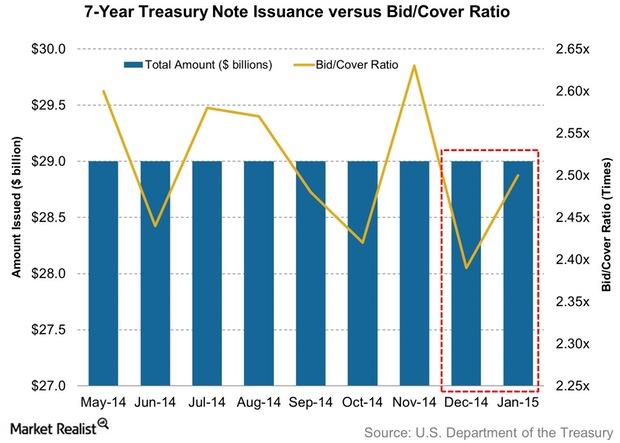 Bid-to-cover ratio rises for seven-year Treasury notes
By David Ashworth

Feb. 4 2015, Updated 10:05 a.m. ET
Seven-year Treasury notes auction
The U.S. Department of the Treasury holds seven-year Treasury note (or T-note) auctions every month. Seven-year Treasuries are intermediate-term maturities. This means they're in the middle of the yield curve.
Future economic growth and inflation expectations are key yield drivers. T-note prices are more sensitive to changes in yields than shorter Treasury (SHY) maturities. ETFs such as the iShares 7-10 Year Treasury ETF (IEF) and the ProShares Ultra 7-10 Year Treasury ETF (UST) provide exposure to seven-year T-notes.
Article continues below advertisement
Key takeaways
Following are some key takeaways from the seven-year Treasury notes auction.
The auction size was $29 billion, and the date was set on January 29, 2015.
The demand was improved from the previous month. The bid-to-cover ratio rose 4.6% to 2.5x compared to 2.4x at December's auction.
The high yield dived to 1.59% from 2.13% at the December auction.
Auction analysis
Market demand for the notes was stronger at ~71% in January compared to 62.4% in December. This was due mainly to higher direct bids. Direct bids as a percentage of competitive accepted bids jumped from 5.9% in December to 14.9% in January. Direct bids include bids from domestic money managers.
The percentage of indirect bids remained nearly the same at 56.1% in January from 56.5% in December. Indirect bidders include foreign central banks. They indicate overseas demand for the auctioned securities.
Due to the higher market demand month-over-month, dealer takedown was lower at 29% compared to 37.6% in December. Primary dealers are a group of 22 authorized securities dealers or brokers. They're required to bid at Treasury auctions to clean up excess supply.
Yield analysis
After the auction, yields on the seven-year Treasury note rose in the secondary market. It ended the day 6 basis points higher than the previous day's close of 1.53%.
Although this segment has given positive returns to date this year and outperformed investment-grade bonds tracked by the Vanguard Total Bond Market ETF (BND), it has trailed long-term Treasuries (TLT).