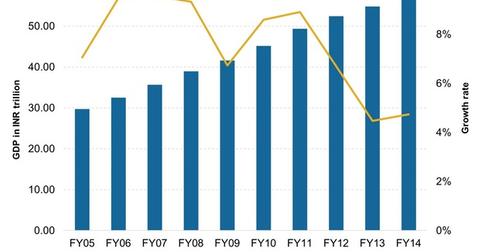 Investors should watch out for India's economic growth
By David Ashworth

Updated
Why economic growth is important
India is part of the BRICS (Brazil, Russia, India, China and South Africa) nations. This is a group of major and high-potential emerging countries. The countries are distinguished by their large economic size, population size, and political influence. As a result, tracking their economic growth is important. You should also note that these countries represent large and growing economies in five of the seven continents.
Article continues below advertisement
According to IMF (International Monetary Fund) data, India is the tenth largest economy in the world. Its gross domestic product, or GDP, was $1.876 trillion in fiscal year 2013–2014. In India, a fiscal year begins in April and ends in March of the following year. The reading above is for the period from April 2013 to March 2014.
Economic growth over the years
India's growth rate averaged 7.5% in the past decade. However, growth has slowed down in the past three years due to the global economic slowdown.
Growth was only 4.5% in fiscal year 2013. It set a slightly faster pace of 4.7% in fiscal year 2014.
Article continues below advertisement
India's place among BRICS
Among the BRICS nations, India's economy grew at the second fastest pace behind China. It had 4.7% growth in fiscal year 2013–2014.
ETFs that invest across the BRICS nations include the Vanguard FTSE Emerging Markets ETF (VWO), the iShares MSCI Emerging Markets Index Fund (EEM), the iShares Core MSCI Emerging Markets ETF (IEMG), the iShares MSCI Emerging Markets Minimum Volatility Index Fund (EEMV), and the Schwab Emerging Markets Equity ETF (SCHE).
In 2015
2015 will be a crucial year for India's economy. With a strong public mandate, expectations from the government are very high. Structural reforms and developments can make this a turnaround year for India. There are low fuel prices in the medium term. This can keep inflation in check. Support from monetary policy can help India get back on a high-growth path.
However, weak decision making on reforms, or a re-ignition of the inflation flame, will deter India's central bank from loosening monetary policy. This would be negative for India's economic growth. India could fall off investors' radar again.