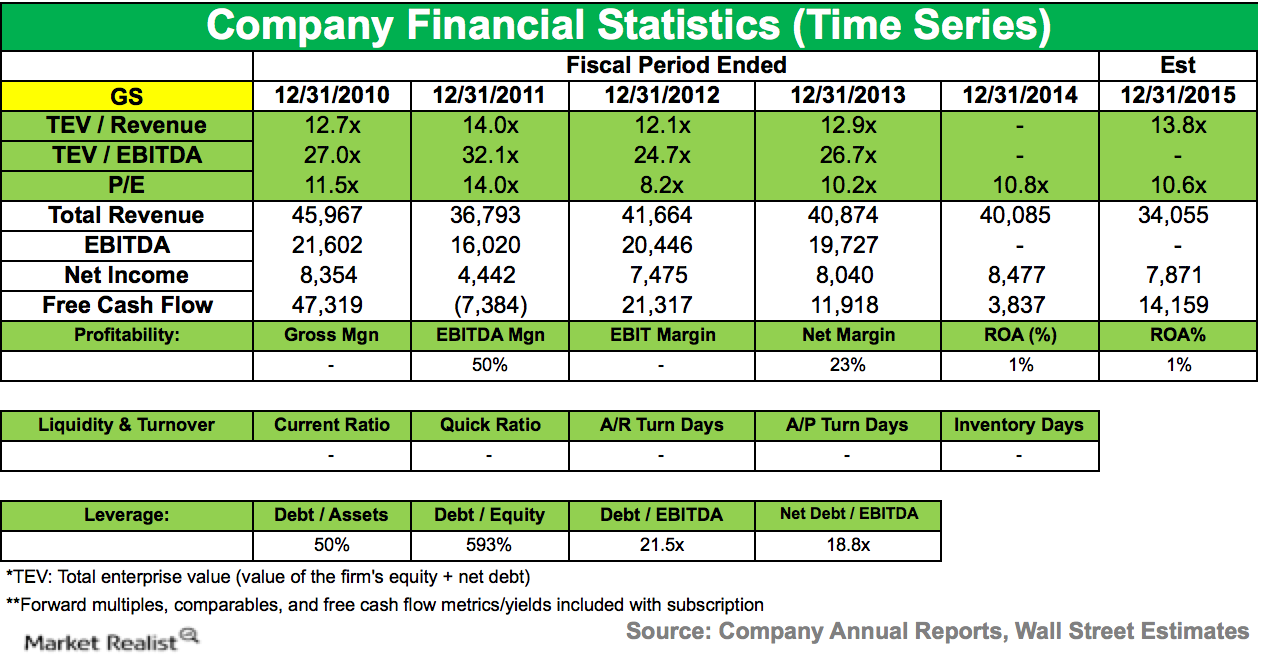 Horseman Capital raises its position in Goldman Sachs
Horseman Capital and Goldman Sachs
Horseman increased its position in Goldman Sachs Group (GS) during 4Q14. The stock accounts for 11.81% of the firm's total portfolio, up from 9.67% of the fund's 3Q14 portfolio.
Article continues below advertisement
Brief on Goldman Sachs Group
Goldman Sachs Group is a leading global investment banking, securities, and investment management firm. The company operates in four segments:
investment banking
institutional client services
investing and lending
investment management
Goldman Sachs reported fourth quarter and full-year results
In 4Q14, the company's net revenues were $7.69 billion. Net earnings were $2.17 billion. Diluted earnings per common share were $4.38 compared with $4.60 for 4Q13 and $4.57 for 3Q14. Annualized ROE (return on equity) was 11.1% for the fourth quarter of 2014.
For the year ended December 31, 2014, Goldman Sachs reported revenue of $34.53 billion. Net earnings were up 5% year-over-year (or YoY) to $8.5 billion. Diluted earnings per share (or EPS) were up 10% YoY to $17.07. ROE was 11.2%. Book value per share increased by 7% to 163.01.
Management stated, "The year was characterized by mixed global economic and financial conditions." Challenges in the global economy affected the operating environment of its clients.
Article continues below advertisement
Investment banking net revenue was up 8% YoY to $6.46 billion in 2014, which represented the company's second highest annual performance. The increase was driven by significant improvement in advisory revenues and modestly higher equity underwriting revenues, which was slightly offset by lower debt underwriting revenues.
Institutional client services revenue was $15.20 billion, 3% down YoY. Management said, "During 2014, fixed income, currency and commodities client execution continued to operate in a challenging environment as economic uncertainty contributed to generally low levels of activity, particularly in credit products, interest rate products and mortgages. Equities operated in an environment generally characterized by an increase in global equity prices and low volatility levels, although volatility levels increased during the fourth quarter."
Investing and lending revenues were $6.83 billion, 3% down YoY.
Investment management net revenue was $6.04 billion, which was supported by an asset under supervision increase of 13% YoY to $1.18 trillion.
Achievements of 2014
Goldman Sachs ranked first in worldwide announced and completed M&A (mergers and acquisitions) transactions. The company also ranked first in global equity, equity-related, and common stock offerings.
Article continues below advertisement
Capital distribution to shareholders
During the year, the firm repurchased 31.8 million shares for $5.47 billion, which includes the 6.6 million shares it repurchased during 4Q14. The company still has 25.4 million shares remaining in its share repurchase program.
The company declared a dividend of $0.60 per share on January 15. The dividend increased from $0.55 per share to $0.60.
Horseman's key positions in 4Q14
Horseman Capital added a new position in Alibaba (BABA). The fund increased its stake in TJX Companies (TJX), Vipshop Holdings (VIPS), BNY Mellon (BK), Wells Fargo (WFC), and Goldman Sachs (GS). The fund sold its positions in Comerica (CMA), Barrick Gold (ABX), IAMGOLD (IAG), and Harmony Gold Mining (HMY). The fund reduced its stake in Newmont Mining (NEM).
In the next part of the series, we'll discuss Horseman's position change in Comerica.