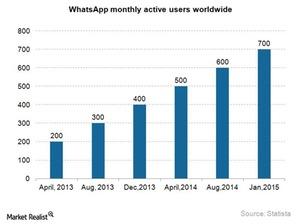 Facebook's WhatsApp crosses the 700 million active users mark
Facebook's WhatsApp crosses the 700 million active users mark
On October 6, 2014, Facebook (FB) completed its $22 billion purchase of mobile messaging service WhatsApp, about eight months after the deal was announced. Read more about this deal in Market Realist's Must-know: Facebook acquires WhatsApp for $19 billion.
Facebook paid $4.59 billion in cash and 177.8 million shares of its Class A common stock to WhatsApp's shareholders. It also paid 45.9 million shares (restricted stock units) to WhatsApp employees to complete the deal.
This deal faced lot of opposition from European telecom players. But European Union (or EU) regulators approved the deal, stating that the two firms were "not close competitors" and that consumers would still have a choice of apps.
Article continues below advertisement
According to WhatsApp CEO Jan Koum, WhatsApp crossed the 700 million monthly active users (or MAUs) mark globally in January 2015. This is an increase of over 100 million users from the 600 million MAUs it recorded in August 2014. Koum further claims that the app's users are sending over 30 billion messages daily.
WhatsApp's growth has been tremendous
The above chart shows WhatsApp's impressive user growth. The messaging app reached 700 million active users in January 2015, up from just 200 million in April 2013.
During the first four years of its operation, the number of WhatsApp users grew faster than comparable networks like Google's (GOOGL) Gmail, Twitter (TWTR), and Microsoft's (MSFT) Skype. By the end of its fourth year, WhatsApp had 419 million monthly active users. Meanwhile, Facebook had 145 million, Gmail had 123 million, Twitter had 54 million, and Skype had 52 million.
WhatsApp also competes with apps like Line and Tencent's (TCEHY) WeChat in the mobile messaging industry.
Facebook expects its WhatsApp investment to benefit the company over the long term
During the Q2 earnings call, Facebook's management commented, "So things like Messenger and WhatsApp over time, when that closes and Instagram, I really do just want to emphasize that there is a lot of work to set up the foundation for having a good business community and ecosystem and in those that we think it's going to be years of work before those are huge businesses for us. And I'm liking where we are now on something like the Messenger, to where we were on Facebook in like 2006 or 2007, where it was primarily consumer product at that time where you really only communicated with friends."
Read more about how this deal affects Facebook's rivals in Market Realist's Why is Facebook's acquisition of WhatsApp bad for Twitter? and Will Facebook's acquisition of WhatsApp impact Tencent's WeChat?