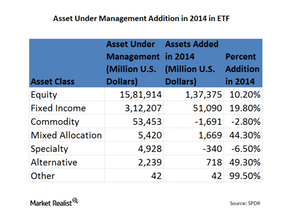 Alternative asset managers open the door to retail investors
By Saul Perez

Updated
New entrants in alternative asset investing
Institutional investors have always been the largest investors in the alternative asset class. But in the last few years, retail investors have started to focus more attention on alternates. This has happened for two main reasons.
First, there's more information about alternative assets available than there used to be. So potential investors are more aware about the benefits of alternative assets.
Second, investors are increasingly managing retirement funds for themselves. These investors have the time to invest in research, and they understand the benefits of adding alternative assets to their portfolio.
Article continues below advertisement
ETFs facilitate increased retail participation in alternative assets
These two factors alone wouldn't account for much if there weren't also suitable investment opportunities.
Alternative assets are restrictive, carrying high minimum investment requirements. This is why institutional investors and high–net worth investors are the main investors in alternative assets. But the success of ETFs focused on alternative assets has opened the door to retail investors. In 2014, retail investors increased investments in alternative-focused ETFs by nearly 50%, as you can see in the chart above.
These ETFs try to replicate the strategies of alternative asset funds:
the IQ Hedge Multi-Strategy Tracker ETF (QAI)
the SPDR SSgA Multi-Asset Real Return ETF (RLY)
the WisdomTree Managed Futures Strategy Fund (WDTI)
ETFs such as IQ Hedge Macro Tracker ETF (MCRO) have even made complex macro strategies possible.
Asset managers such as BlackRock (BLK) stand to benefit from increased retail investment.
Alternative asset managers offer solutions to retail investors
The retail investment interest has alerted alternative asset managers to an untapped market. They are looking to enter this market, because incremental additions to assets under management is increasingly difficult to come by, especially with larger players.
These fund managers will try to tap this nascent market by providing unique solutions, since existing solutions may not be suitable for retail investors. Expect to see more innovative fund structures and new fund types with lower minimum capital requirements.