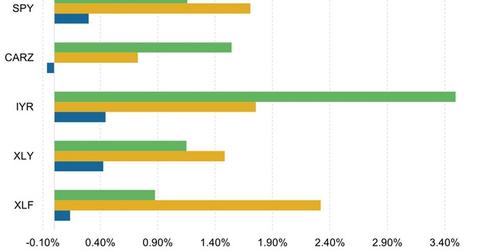 Does monetary policy impact stocks?
By David Ashworth

Dec. 6 2014, Updated 2:20 a.m. ET
Are stocks impacted?
Although monetary policy mainly impacts government bonds, equity investments are also impacted. It's important to understand why and when equities react to policy announcements.
If everything is aligned in an economy—inflation is under control, unemployment isn't high, there isn't political unrest, and the economy is growing steadily—monetary policy has a limited impact on stocks. A strong stance isn't required from a central bank. However, if any of these factors aren't aligned correctly, monetary policy announcements and changes in stance become important.
Article continues below advertisement
Sectors affected
Stocks react to monetary policy when the announcement isn't aligned with market expectations. When the announcement aligns with expectations, the movement due to the policy is minimal. There are several sectors that are sensitive to interest rates. As a result, a change in the rates will also impact the stocks for companies in these sectors. These sectors include banking and financial services, consumer discretionary, real estate, and automobiles.
As a result, exchange-traded funds (or ETFs) focused on these sectors can react sharply to an unexpected change in stance or policy measures by the Fed. The SPDR Financial Select Sector Fund (XLF), the iShares Dow Jones US Real Estate Index Fund (IYR), the Consumer Discretionary Select Sector SPDR Fund (XLY), the and First Trust NASDAQ Global Auto ETF (CARZ) can react stronger than a broader market ETF—like the SPDR S&P 500 ETF (SPY).
The graph above shows how these ETFs reacted to the Fed's announcements—in terms of that day's return. In two cases, on September 18, 2013, and December 18, 2013, the announcements were unexpected. On April 30, 2014, the announcement was expected.
Stocks of companies with large debt on their balance sheets also react to a change in interest rates. Their cost of borrowing depends on the risk-free rate. The cost of borrowing is directly affected by changes in interest rates.
If interest rates increase, stocks tend to fall because bonds become more attractive. The opposite occurs when rates are reduced.
In the next part of this series, we'll discuss the monetary policy process and objectives in India.