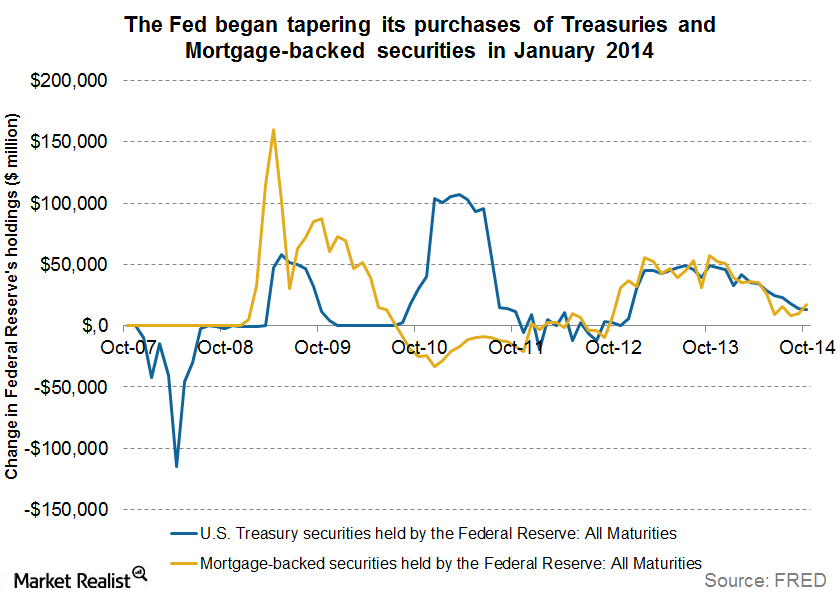 Why real interest rates could stay low
Russ provides three reasons why interest rates are likely to remain historically low for an extended period of time, and he explains what this means for fixed income portfolios.
If you are in or near retirement, you know it's been hard earning income on your investments in recent years. Unfortunately, I don't see it getting much easier in the next few years.
I expect the 10-year Treasury yield to finish the year between 2.5% and 2.75% and to trend higher to 3% over the intermediate term. However, while I do expect long-term rates in the United States to climb modestly in the near future, interest rates are likely to remain historically low for an extended period of time.
Article continues below advertisement
Market Realist – The Federal Reserve (or Fed) introduced the bond buying program (TLT). It involved the purchase of ten-year Treasuries (IEF) and mortgage-backed securities (VNQ) (IYR) in order to combat the recession. The recession was caused by the U.S. financial (XLF) crisis of 2008. The program—popularly known as quantitative easing (or QE)—put downward pressure on yields across the fixed income spectrum. This created a tough environment for investors seeking income.
Market Realist – The graph above shows the constant maturity rates for ten-year and one-year Treasuries. Interest rates stayed persistently low over the past few years. Long-term yields continue to stay around 3%. This is below the long-term average of 6%.
Market Realist – In its October Federal Open Market Committee (or FOMC) meeting, the Fed ended the QE program. Throughout the year, there have been signs that the U.S. economy is picking up speed. The tapering in purchases began in January.
However, the end of QE doesn't mean a break for bond investors in search of income. The Fed intends to keep interest rates low for a "considerable time." This means that the rate hike could happen well into 2015. The hike is also expected to be gradual. This will prevent the U.S. economy from tilting back into a recession.
In the next part of the series, we'll discuss why rates will likely remain low for a long time.