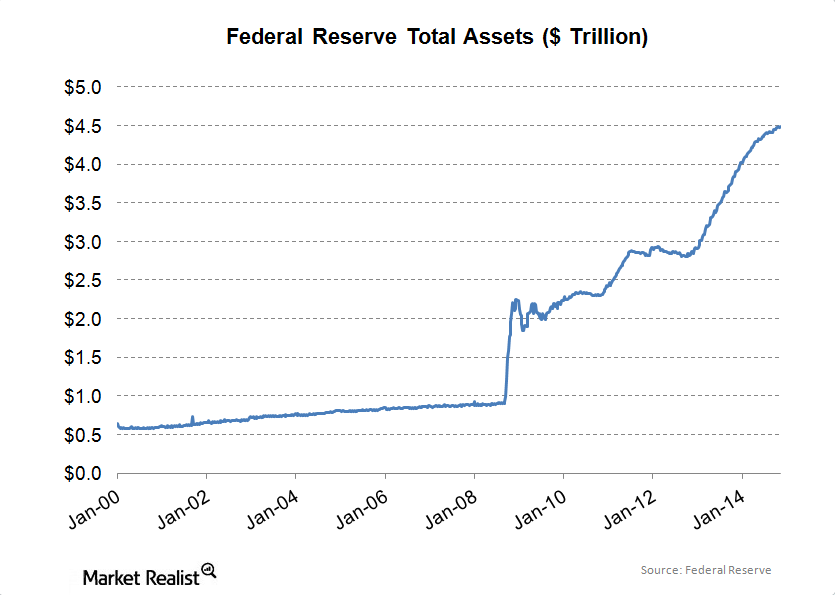 Quantitative Easing Is Over, But What About The Fed Balance Sheet?
By Brent Nyitray, CFA, MBA

Nov. 27 2019, Updated 3:16 p.m. ET
The Fed unwinds its balance sheet
The "elephant in the room" at the Fed is that rates need to return to more normal historical levels at some point. This will be in the context of a massive Fed balance sheet. This creates issues on many different levels.
The Fed also noted that we're more or less in uncharted territory. While the Fed doesn't anticipate increasing rates any time soon, it's starting to figure out which monetary levers will be most effective. The Fed staff will continue to research this question.
Article continues below advertisement
The Fed's balance sheet has gotten huge
Quantitative easing (or QE) has increased the size of the Fed's balance sheet almost eight-fold since the turn of the century. From holding just over $500 billion in assets in 2000, it passed $4 trillion at the end of last year.
Some of the recent FOMC participants worried that additional purchases would result in capital losses. This fear isn't insignificant. Currently, the Fed supports over $4 trillion in assets with ~$55 billion in equity. Under any other entity, this leverage ratio would be unthinkable.
During the September FOMC meeting, the Fed discussed when the appropriate time would be to stop rolling over maturing Treasuries. It doesn't look like the FOMC continued to work on that issue at the October meeting. Everyone agreed that the goals of QE have been met. They also agreed the Fed should maintain the current size of its balance sheet in order to "help maintain accommodative financial conditions."
Effects on mortgage REITs