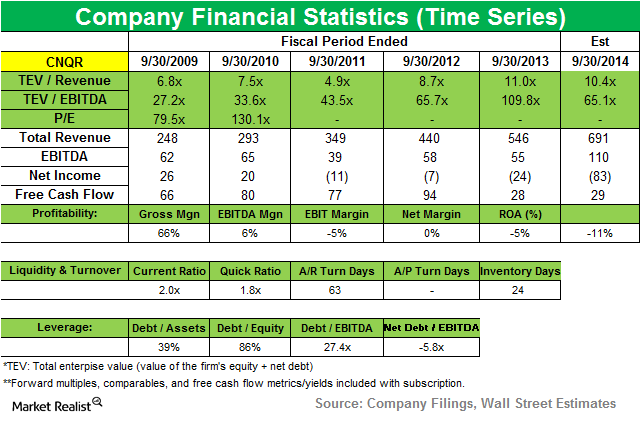 GAMCO Investors adds new position in Concur Technologies
By Samantha Nielson

Nov. 27 2019, Updated 2:45 p.m. ET
GAMCO acquires position in Concur Technologies
During 3Q14, GAMCO Investors started a new position in Concur Technologies Inc. (CNQR). The position accounted for 0.35% of the fund's third-quarter portfolio.
Concur Technologies overview
Concur Technologies provides travel and expense management solutions for companies of all industries and sizes worldwide. Key customers include businesses, universities, and the government.
The firm offers integrated online and mobile business travel management software that automates expenses. Concur's TripIt app is a mobile organizer that books travel, tracks itineraries, and files expenses.
Concur Technologies to be acquired by SAP
Article continues below advertisement
In September, German software giant SAP AG (SAP) announced the acquisition of Concur Technologies for about $8.3 billion. The per-share purchase price of $129 represented a 20% premium over Concur's September 17 closing price. The transaction is expected to close in the fourth quarter of 2014 or the first quarter of 2015.
With the acquisition, Concur will extend SAP's business network reach into the $1.2-trillion corporate travel spectrum. SAP is poised to benefit by adding Concur's corporate travel ecosystem to the already acquired Ariba and Fieldglass networks. According to a press release, the combined entity will have over "50 million users in the cloud—more than any enterprise cloud company—and will be the second-largest cloud company by measure of revenue." For more on the acquisition, please read SAP acquires Concur Technologies to expand into the cloud space.
Fiscal 3Q14 revenue grew 28%
In August, Concur reported fiscal third-quarter revenue of $177 million. This is a 28% increase compared to the year-ago quarter and is a 6% increase sequentially. The growth was driven by higher transaction volumes and a rising number of subscribers. Generally accepted accounting principles, or GAAP, net profit and loss broke even compared to net income of $2.8 million or $0.05 per share in the year-ago quarter. The company noted that "corporate customers and their travelers are embracing the vision of an open travel ecosystem, and an increasing number of suppliers, TMCs, and developers are looking to Concur's cloud platform to enable a new way to do business."
Other GAMCO activities in 3Q14
Mario Gabelli's GAMCO Investors added new positions in Weatherford International, TRW Automotive Holdings Corp. (TRW), and Liberty Media Corporation Class C in the third quarter. GAMCO also acquired stakes in Sigma-Aldrich Corp. (SIAL) and Bally Technologies Inc. (BYI), both of which are currently involved in merger and acquisition transactions. The fund added to its positions in Sony Corp. ADR, the Interpublic Group of Companies Inc., and Chemtura Corporation as well.
The next part of this series will highlight GAMCO's new position in Sigma-Aldrich.