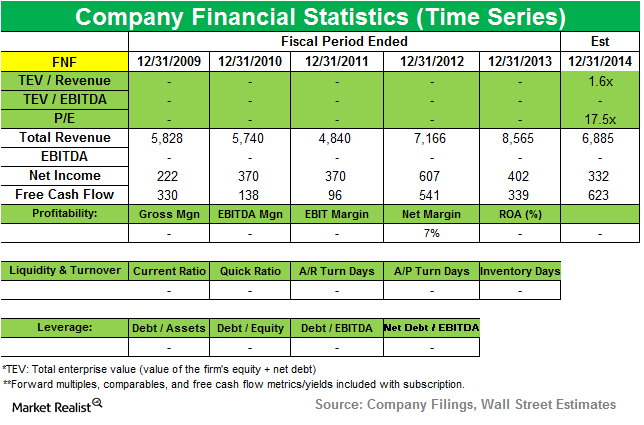 CalPERS opens new position in Fidelity National Financial
By Samantha Nielson

Nov. 20 2020, Updated 12:50 p.m. ET
CalPERS new position in Fidelity National Financial
For the quarter ended in September, The California Public Employees' Retirement System (CalPERS) added new positions in Weatherford International Plc (WFT), Liberty Media Corp. (LMCA), Alibaba Group Holding Limited (BABA), Fidelity National Financial Inc. (FNF), CBS Outdoor Americas Inc. (CBSO), and TRI Pointe Homes Inc. (TPH). Top exits included stakes in Fomento Economico Mexicano, SAB de CV (FMX) and Vodafone Group Plc (VOD).
CalPERS added a stake in Fidelity National Financial, or Fidelity, that accounted for 0.03% of the pension fund's total portfolio for the quarter ended in September.
Article continues below advertisement
Overview of Fidelity National Financial
Fidelity is the largest title insurance company in the United States. It's also a leading provider of title insurance and escrow and other title-related services for real estate transactions. Its business is organized into two groups, FNF Core Operations and FNF Ventures, known as FNFV.
Through its Core operations, Fidelity is a leading provider of title insurance, technology, and transaction services to the real estate and mortgage industries. The company operates via its title insurance underwriters—Fidelity National Title, Chicago Title, Commonwealth Land Title, Alamo Title and National Title of New York. The company also provides mortgage technology solutions and transaction services. One of the company's offerings is MSP, the residential mortgage servicing technology platform in the US. It's provided through its majority-owned subsidiaries, Black Knight Financial Services, LLC (or BKFS) and ServiceLink Holdings, LLC.
Fidelity also has a share in the operations of certain equity investments, including Ceridian, Digital Insurance, and other smaller operations that aren't title-related.
Fidelity's FNFV segment includes a 51% stake in Remy, a leading designer, manufacturer, re-manufacturer, marketer, and distributor of aftermarket and original equipment components for automobiles, light trucks, heavy-duty trucks, and other vehicles.
FNFV also has a 55% ownership interest in American Blue Ribbon Holdings, LLC (ABRH), the owner and operator of O'Charley's, Ninety-Nine Restaurants, Max & Erma's, Village Inn, and Bakers Square. This segment also controls casual-dining chain operator J. Alexander's that operates the Stoney River Legendary Steaks restaurants.
Article continues below advertisement
Distribution of tracking stock finalized
At the end of June, Fidelity completed the distribution of its two tracking stocks, Fidelity Group common stock and FNFV Group common stock. Under the plan, the company moved its portfolio company investments to a new subsidiary, Fidelity National Financial Ventures (FNFV). Fidelity also created and distributed to its shareholders a class of shares that tracks the performance of FNFV. Management said this would provide "greater transparency and clarity both to the inherent value of FNF's portfolio company investments and the cash earnings capabilities of its core real estate, technology and mortgage services businesses."
Revenue growth driven by technology subsidiary Black Knight
Fidelity's 3Q14 results missed estimates. Core revenue grew to $1.7 billion in the third quarter, compared to $1.6 billion in 3Q13. Adjusted net earnings were up to $145 million from $115 million in the same period a year ago. The company posted core diluted earnings per share, or EPS, of $0.51, compared to adjusted core diluted EPS of $0.50 in the same quarter last year.
The company said its core revenue growth was driven by technology subsidiary Black Knight, which saw revenue increase by 11%, led by MSP. The business signed new contracts that are expected to contribute to future organic revenue growth. In a release, Fidelity said Black Knight's "sales pipeline remains strong, with numerous MSP, Empower, Closing Insight and Data and Analytics contracts expected over the next several quarters."
Article continues below advertisement
Title business revenue falls
Total revenues for the title segment fell 2%. Fidelity said the title business had a "stable quarter," with operational efficiency metrics leading to a 14.7% pre-tax title margin. That's a 50 basis point sequential improvement over the second quarter of 2014. In citing data from Mortgage Bankers Association (or MBA), Fidelity said, "in 2014, the MBA predicts a 44.4% decrease in the total U.S. mortgage originations market, primarily due to a 63.6% decrease in refinance transactions in 2014. Total projected originations in 2015 remain relatively consistent with those in 2014."
Results from Fidelity saw revenue of around $657 million in the third quarter versus $624 in the same period a year ago. The company said, "The tax-free distribution of Remy common shares provided a tax efficient monetization event for shareholders. J. Alexander's filed for an IPO and a publicly traded common stock will provide liquidity and a market valuation for that business."
The next part of this series will review CalPERS' new position in CBS Outdoor Americas.