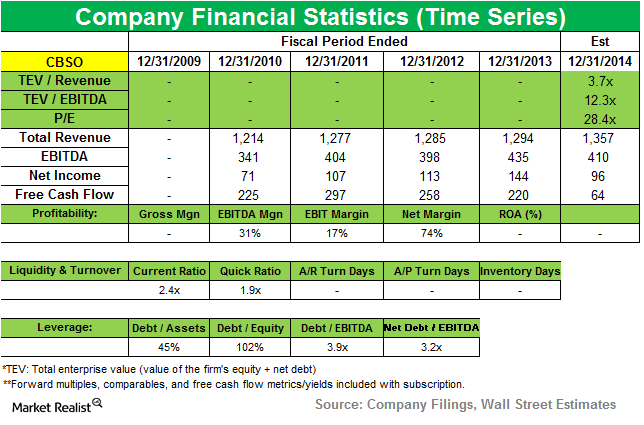 CalPERS establishes new position in CBS Outdoor Americas
By Samantha Nielson

Nov. 20 2020, Updated 3:19 p.m. ET
CalPERS new position in CBS Outdoor Americas
For the quarter ended in September, The California Public Employees' Retirement System (CalPERS) added new positions in Weatherford International Plc (WFT), Liberty Media Corp. (LMCA), Alibaba Group Holding Limited (BABA), Fidelity National Financial Inc. (FNF), CBS Outdoor Americas Inc. (CBSO), and TRI Pointe Homes Inc. (TPH). Top exits included stakes in Fomento Economico Mexicano, SAB de CV (FMX) and Vodafone Group Plc (VOD).
CalPERS added a stake in CBS Outdoor Americas (CBSO) that accounted for 0.02% of the pension fund's total portfolio for the quarter ended in September. The pension fund also owns a stake in CBS.
Article continues below advertisement
Overview of CBSO
CBS Outdoor Americas is the largest provider of advertising space on out-of-home advertising structures and sites across the US, Canada, and Latin America. For 3Q14, its largest categories of advertisers were television, retail, and professional services, which represented 10%, 9%, and 7% of its total US revenues, respectively.
CBSO spun out of CBS earlier this year, sees REIT conversion
Media company CBS spun off its Outdoor Americas billboard business at the end of March via an initial public offering, or IPO. CBS Outdoor Americas sold 23 million shares, or 19% of its stock, for $28.00 per share in the IPO, raising $615 million.
CBS also received a favorable private-letter ruling from the Internal Revenue Service over the conversion of CBS Outdoor into a real estate investment trust (REIT). In July, CBSO said it began operating as a REIT for the tax year beginning July 17, 2014, and ending December 31, 2014.
Article continues below advertisement
CBS also disposed of its remaining 81% stake in CBS Outdoor through a tax-free split-off in July. Under that transaction, CBS exchanged its 97 million shares of Outdoor Americas common stock for 44.7 million shares of CBS Corp. Class B Common Stock. This transaction resulted in a gain of $1.56 billion.
Growth via acquisitions
In July, CBSO agreed to acquire certain outdoor advertising businesses from Van Wagner Communications, LLC for $690 million in cash. Under this deal, CBSO will acquire approximately 1,100 large-format billboard displays in 11 top US markets. CBSO earlier signed an agreement with Windsor Outdoor to acquire in excess of 35 billboard structures with over 70 display faces in the City of Chicago, Illinois, and the surrounding metropolitan area.

Article continues below advertisement
To rebrand as Outfront Media 
CBSO said last month that it's planning to rebrand as Outfront Media Inc. by mid-November. A release said the new identity "represents a new era for the company and for its position within the growing out-of-home advertising sector. The brand also symbolizes the company's unique portfolio of billboards and displays in the most desired locations, including landmark positions in high-traffic areas, retail districts, transit hubs and iconic destinations." CBSO will also see its ticker symbol change to "OUT."
Softer market conditions lead to flat revenue
CBSO's 3Q14 revenue fell 0.5% to $336.5 million. It said billboard revenues were flat at $237.2 million. Improvement in local sales and digital billboard revenues was offset by softer market conditions in national advertising and lower billboard yields.
International revenue fell 3.6%, mainly due to foreign currency exchange. Profit rose to $248.3 million, or $2.06 a share, from $37.2 million, or $0.31, due to a tax benefit in connection to the REIT conversion. Funds from operations were $292.6 million, an increase of $212.3 million, or 264.4%, due to the tax benefit.
The next part of this series will look at CalPERS' new position in TRI Pointe Homes.