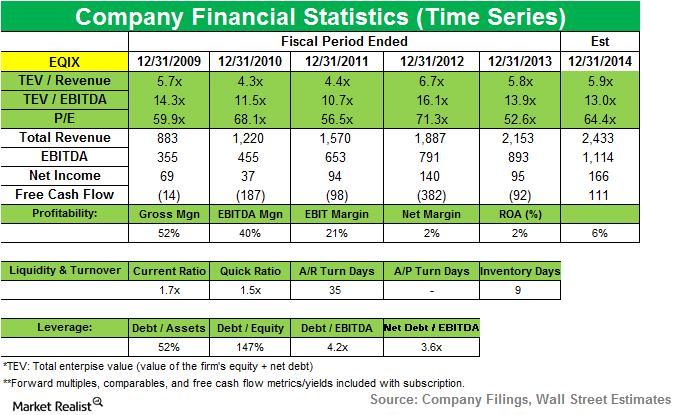 Why AQR Capital opens a new position in Equinix
By Patricia Garner

Oct. 16 2014, Updated 5:00 p.m. ET
AQR Capital and Equinix
AQR Capital Management added new positions in AstraZeneca (AZN), Navient Corp. (NAVI), and Equinix (EQIX). It sold positions in Tableau Software Inc. (DATA) and Geo Group Inc. (or GEO). AQR increased positions in Apple (or AAPL) and DIRECTV (DTV).

AQR Capital initiated a new position in Equinix in 2Q14. The company accounts for a 0.221% position in the fund's second quarter U.S. long portfolio.
Company profile
Article continues below advertisement
Equinix is a global interconnection and data center company. It offers premium data center colocation, interconnection, and exchange and outsourced IT infrastructure services through its International Business Exchange (or IBX) data centers. The data centers are in 32 markets around the world. The company's customer count increased 8% to ~6,093 as of June 30, 2014—from ~5,647 as of June 30, 2013.
Equinix awaits IRS ruling on REIT conversion
Equinix is waiting for a private letter ruling (or PLR) from the Internal Revenue Service (or IRS) about a conversion to a real estate investment trust (or REIT). In September 2012, Equinix's board approved the conversion to a REIT. The REIT is scheduled to be complete in January 2015.
In November last year, Equinix and Iron Mountain Inc. (IRM) said that the IRS was evaluating their eligibility. A REIT conversion is expected to benefit the company. REITs pay lower taxes and higher dividends than other companies. Equinix believes it's eligible for REIT status "based on both existing legal precedent and the fact that other data center companies currently operate as REITs."
Shares increased earlier in April after CBS Corp. (CBS) announced a favorable IRS ruling for its REIT application. The application was for its advertising company, CBS Outdoor. Lamar Advertising (LAMR) also received IRS approval for a REIT conversion.
Equinix sees revenue growth from data center expansions
Equinix posted net income of $11.3 million. This represents a basic and diluted net income per share of $0.22. Its revenues were $605.2 million for the second quarter. This was a 4% increase and a 14% increase over the same quarter last year.
Article continues below advertisement
Equinix's recurring revenues mainly consisted of colocation, interconnection, and managed services. They were $574.2 million—up 14% year-over-year (or YoY). The company's revenue grew across the Americas, Europe, the Middle East, Africa, and Asia Pacific. The growth was a result of data center expansions and an increase in orders from existing and new customers.
Gross margins improved to 52%—from 50% for the previous quarter and 49% for the same quarter last year. Adjusted earnings before interest, taxes, depreciation, and amortization (or EBITDA) was $275.3 million. This was a 6% increase over the previous quarter and an 11% increase over the same quarter last year.
In July, Equinix acquired the remaining 47% stake in ALOG Data Centers of Brazil. It acquired the stake from Riverwood Capital. The acquisition was $225 million. The acquisition aims to expand the company's presence in Brazil and meet the growing demand for data center services in Latin America. ALOG is the only provider that offers data center services in Sao Paulo and Rio de Janiero. These are the largest markets in Brazil.
Equinix aims to capitalize on cloud computing opportunities
For 2014, a significant part of Equinix's strategy and innovation investment intends to capture the longer-term opportunity in cloud computing. In April, Equinix launched the Equinix Cloud Exchange. It was an advanced interconnection solution for direct access to multiple clouds and multiple networks across the globe.
The exchange provides enterprises with simple, scalable, direct access to the multiple cloud services they need to build highly flexible hybrid cloud solutions inside Equinix IBX data centers. With Equinix Cloud Exchange, enterprises can connect directly to Amazon Web Services and Microsoft Azure. There are the top public cloud services.
In the next part of the series, we'll discuss why AQR sold its stake in Tableau Software.