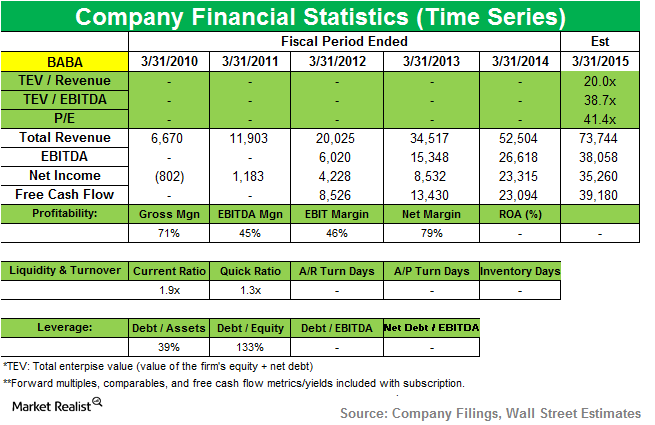 Must-know: Third Point starts a new position in Alibaba
New position
Activist investor Dan Loeb's fund, Third Point Partners LP, said in its 3Q investor letter that it had made an investment in Alibaba Group Holding Ltd (BABA) during the third quarter. The fund said Alibaba "has continued its exponential growth, demonstrated significant margin leverage, and is expected to earn over $5 billion this fiscal year."
Overview of Alibaba
Alibaba Group Holding Ltd, commonly known as Alibaba, is a Chinese e-commerce player. It's the largest online and mobile commerce company in the world in terms of gross merchandise volumes (or GMV) as of 2013, according to the company's latest F-1 filings. Alibaba's initial public offering, or IPO, in September saw an overwhelming response and the stock ended the first day of trading at $93.89—up 38% from the $68 initial price set by the e-commerce giant.
Why Alibaba is a "compelling" investment
Article continues below advertisement
Third Point noted in its letter that Alibaba can "generate long-term value in its core markets and compete in new ones, making it a compelling potential multi-year investment." It added that "the company has a substantial network effect that creates several large moats around its business, generating significant free cash flow for re-investment and expansion as well as an unrivaled amount of data on Chinese consumers." The fund sees "continued end market growth in Chinese consumer spending and e-commerce (as well as global e-commerce) and continue[s] to believe that Alibaba has considerable additional monetization potential."
Alibaba has "multiple hidden assets"
Besides metrics that should appeal to growth at a reasonable price (or GARP) and value investors, Alibaba has "multiple hidden assets." These include Aliyun and Alibaba Cloud Computing, which is Alibaba's infrastructure as a service business, its logistics joint venture China Smart Logistics, and escrow payment service AliPay.
The letter revealed that AliPay has over 300 million users—twice the number of eBay Inc.'s (EBAY) PayPal—and 190 million mobile users. While almost 80% of transactions on Alibaba are paid for via AliPay, Alibaba only represents 30% of AliPay's business.
Third Point cited Bank of America Merrill Lynch estimates that AliPay will earn over $2 billion in 2017 and that the unit is valued at $60 billion, or a net payment volume (or NPV) of $7 per Alibaba share.
Alibaba sees competition from Tencent
Alibaba is expected to report its 3Q14 earnings on November 17. A Market Realist article notes that while Apple Inc.'s (AAPL) Apple Pay service will challenge companies in the mobile commerce space, Alibaba sees intense competition on its home turf, China, from Tencent Holdings ADR (TCEHY).
In March, Tencent acquired a stake in JD.com Inc (JD), which is the second-largest e-commerce company in China after Alibaba. For more on this, please read Why Alibaba and Tencent are trying to enter each others' turf.
The next part of this series will explain Third Point's exit from its position in Sony.