Paulson's bet turns sour as AbbVie reconsiders its Shire bid
By Samantha Nielson

Oct. 17 2014, Updated 4:06 p.m. ET
A major sell-off
We noted in the previous part of this series that most funds are seeing their biggest trades dominating the recent sell-off in the U.S. markets. The sell-off in popular trades added to the losses of stock-focused funds, some of which have already generated lackluster returns this year.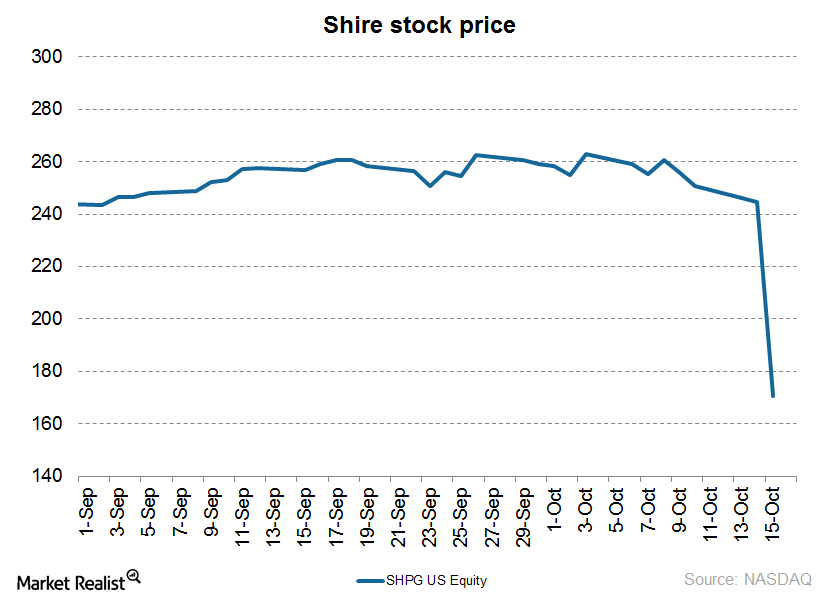 Funds post losses earlier this year
News reports in August noted that Renaissance Technologies LLC, Jana Partners, David Einhorn's Greenlight Capital, Dan Loeb's Third Point LLC, and Paulson & Co. posted losses in July. The losses came as stock markets witnessed a sell-off due to heightened geopolitical tension.
Paulson is also reported to have seen losses in its main strategies in September due to the decline in stock and corporate bond markets.
AbbVie's decision hits merger arbitrage–focused funds
Article continues below advertisement
Some top hedge funds that sought gains from merger arbitrage saw their favorite long-term bets turn sour this week. Paulson & Co, Paul Singer's Elliott Management, and BlackRock Inc. took a hit on a recent announcement by pharmaceutical company AbbVie (ABBV) that it was reconsidering its $55 billion takeover of the Dublin-based Shire (SHP). BlackRock owns a 6.7% stake in Shire while Paulson owns a 4.8% in Shire.
AbbVie's move led to a sharp fall in Shire's stock. It erased gains for the hedge funds that had built up long positions in Shire and were confident about the success of the deal.
AbbVie noted in its announcement that the decision was made "following a detailed consideration of the impact of the U.S. Department of Treasury's unilateral changes to the tax rules, as issued on September 22, 2014." AbbVie had hoped to gain tax benefits by relocating its legal domicile to Ireland.
The company said the recent changes by the Treasury for the so-called tax inversion deals "introduced an unacceptable level of uncertainty to the transaction." Plus, it said "the changes eliminated certain of the financial benefits of the transaction, most notably the ability to access current and future global cash flows in a tax efficient manner as originally contemplated in the transaction."
The HFR Merger Arbitrage Index tracks the returns of merger arbitrage hedge funds. Investors who want to invest in M&A deals via an ETF could look at the IndexIQ ETF (MNA). For more information, please read Merger arbitrage must-knows: A key guide for investors.
Fannie Mae and Freddie Mac
Activist investor Bill Ackman's Pershing Square Capital Management LP, Fairholme Fund, Perry Capital LLC, Paulson & Co., and Owl Creek Asset Management LP were affected earlier this month on their bets on the common or preference shares of Fannie Mae (FNMA) and Freddie Mac (FMCC).
Shares of the two housing finance giants fell at the beginning of October after a judge threw out a lawsuit the funds had filed against the U.S. government. Although the common shares of Fannie Mae and Freddie Mac have bounced back and pared the initial losses, the preferred shares have only seen a modest recovery.
Event-driven strategies down
eVestment said that event-driven funds—which have seen more assets allocated than any other segment of the industry in 2014—fell 1.04% in September. They were also down 1.72% for the third quarter. Activist funds too posted declines in September. But they're the best-performing strategy of 2014. Hedge Fund Research noted that macro hedge funds saw gains in September. It noted, "Macro resurgence accelerated in September as equities, bonds and other hedge fund strategies declined."