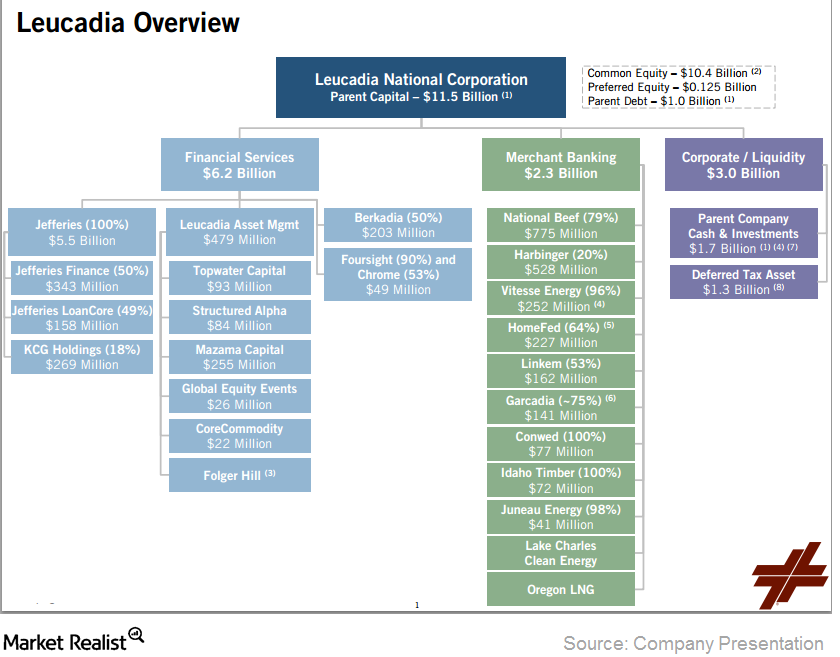 Why Fairholme Capital lowers stake in Leucadia National
By Samantha Nielson

Nov. 20 2020, Updated 4:40 p.m. ET
Fairholme Capital's 2Q14 positions
Bruce Berkowitz's Fairholme Capital added a new position in Lands' End Inc. (LE) in 2Q14. The fund also added to its positions in Sears Holdings (SHLD), Freddie Mac (FMCC), and Fannie Mae (FNMA) during the quarter. The only position Fairholme Capital sold was Chesapeake Energy (CHK). The fund reduced positions in Bank of America (BAC), Leucadia National (LUK), American International Group (AIG), and St. Joe (JOE).
Fairholme Capital lowered its position in Leucadia National (LUK) in 2Q14. The position currently accounts for 4.14% of the fund's portfolio, down from 4.5% in the 1Q14 portfolio.
Overview of Leucadia
Leucadia is a diversified holding company engaged in a variety of businesses through its consolidated subsidiaries. These subsidiaries include:
Article continues below advertisement
Jefferies Group, investment banking and capital markets
National Beef Packing Company, beef processing
Conwed Plastics and Idaho Timber, manufacturing
Juneau Energy and Vitesse Energy, oil and gas exploration and production
Lake Charles Clean Energy and Oregon LNG, energy projects
Leucadia Asset Management, asset management
Leucadia also owns equity interests in businesses that are not consolidated, including Berkadia Commercial Mortgage, Garcadia, HomeFed Corporation, Linkem, and Harbinger Group Inc.
The company has often been called "Baby Berkshire," as it has an investment philosophy similar to Warren Buffett's Berkshire Hathaway Inc. (BRK). Leucadia specializes in deep value investing and has a 35-year track record of expanding via acquiring and owning businesses. The company also evaluates disposals of existing assets for creating value. The company concentrates on returns on investment and cash flow to maximize long-term shareholder value.
Leucadia posts increase in net income and revenues
For 2Q14, Leucadia posted net income of $65 million ($0.17 per diluted common share), up from $52 million ($0.14 per diluted common share). Net revenues increased to $2.8 billion from $2.6 billion in the same quarter the previous year. The management noted that "Leucadia made progress across many of our businesses, and we continue to review and invest in new opportunities."
Notable investments in 2Q14
Article continues below advertisement
Leucadia said it finalized initial funding of its two seasoned oil and gas management teams, Juneau Energy and Vitesse Energy. The company invested a further $332.5 million in its Leucadia Asset Management platform, including a follow-on investment in Topwater Capital, a new investment with Mazama Capital Management, and an initial investment in the Global Equity Events Opportunity Fund, which historically was part of Jefferies.
Leucadia said it raised its stake in Harbinger Group Inc. to 20% and has two representatives on its board. It noted that the $528.3 million market value of its interest in Harbinger as of June 30, 2014 is 28.5% above the purchase price of $411.1 million.
Leucadia said it contributed real estate assets to HomeFed in exchange for common stock, increasing Leucadia's economic ownership to 64%. HomeFed (HOFD), which invests in and develops real estate projects, has 10,000 entitled residential units and up to 2.5 million square feet of commercial development in California, Maine, Virginia, South Carolina, and Florida.
The next part of the series will discuss why Fairholme lowered its position in American International Group (AIG).