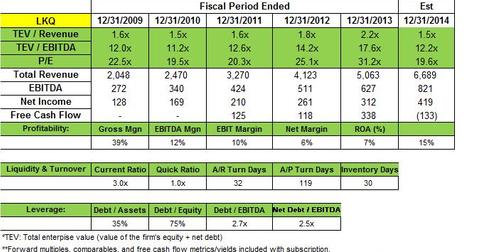 Chilton Investment Company sells its shares in LKQ Corp.
By Patricia Garner

Updated
Chilton and LKQ Corp.
Chilton Investment Company added new positions in Fortune Brands Home & Security Inc. (FBHS), JB Hunt Transport Services Inc. (JBHT), NOW Inc.(DNOW), Gartner Inc. (IT), and Kansas City Southern (KSU). It sold positions in Canadian Pacific Railway Ltd. (CP), Spansion Inc. (CODE), LKQ Corp. (LKQ), Avago Technologies Ltd. (AVGO), and Kohlberg Kravis Roberts & Co. L.P (KKR).
Chilton Investment Company sold its position in LKQ Corp. (LKQ) that had accounted for 1.10% of the fund's 1Q14 U.S. long portfolio.
Overview of LKQ

Article continues below advertisement
LKQ is a leading provider of alternative and specialty parts to repair and accessorize automobiles and other vehicles. It operates in North America, the United Kingdom, the Netherlands, Belgium, France, Australia, and Taiwan. LKQ operates more than 700 facilities. It offers its customers a broad range of replacement systems, components, equipment, and parts to repair and accessorize automobiles, trucks, and recreational and performance vehicles.
LKQ saw its stock price plunge 9% earlier this year after a report from short-seller Prescience Point Research Group said the auto parts repair service is an "ineffective roll-up" and that it's a "dramatic overvaluation to Aftermarket Auto, Recycling and Industrial Distributors." You can find more information on this development in a report on the Market Realist website titled Does LKQ present a good investment?
Acquisitions drive growth in 2Q14

LKQ posted 36.5% increase in revenue to $1.7 billion due to benefits of organic growth and the successful acquisitions. It saw 8.1% organic revenue growth for parts and services. Diluted earnings per share of $0.34 for 2Q14 rose 36.0% from $0.25 for 2Q13.
Article continues below advertisement
During the second quarter, LKQ completed its acquisition of five Netherlands parts distributors, all of which were customers of and distributors for LKQ's Netherlands subsidiary, Sator Holding B.V. The companies acquired were Rijsbergen Cartal Beheer B.V., Pala Holding B.V., Primaparts Automaterialen B.V., Slager Automaterialen B.V. and VEAM B.V. Shares surged in April as well after the company posted 24% growth in profits. This growth was driven by LKQ's January acquisition of Keystone Automotive Operations.
In addition to the above-mentioned companies, LKQ made six other acquisitions. These acquisitions have created potential logistics and administrative cost synergies. They've also helped the company expand into global markets, enhanced its product lines, and provided cross-selling opportunities for LKQ.
Avago Technologies
The next article in this series discusses why Chilton Investment Company exited its position in Avago Technologies.