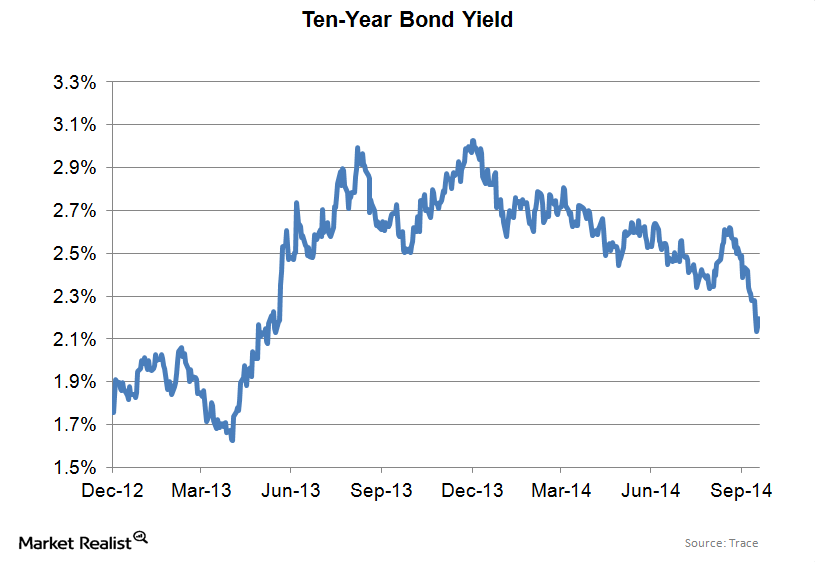 Why bonds were in for a wild ride last week
The ten-year bond yield is the basis for long-term interest rates
The ten-year bond influences everything from mortgage rates to corporate debt. It's now the benchmark for long-term U.S. interest rates. Note that old-timers might remember when the 30-year bond was the benchmark, but that changed during the '90s. When investors ask, "What's going on in the bond market?" they inevitably are asking where the ten-year is trading.
Note that short-term rates are still important, particularly LIBOR, which is the base rate for almost all short-term rates.
Article continues below advertisement
This information is relevant to mortgage real estate investment trusts (or REITs), such as American Capital Agency (AGNC), Annaly Capital Management, (NLY), Hatteras Financial (HTS), Capstead Mortgage Corporation (CMO), and MFA Financial (MFA). It's also relevant to people who invest in homebuilders or fixed income exchange-traded funds (or ETFs) such as the iShares 20+ Year Treasury Bond (TLT).
Important data last week
The retail sales data came in weaker than expected, which put some starch in the bond market. The Producer Price Index showed inflationary pressure nowhere to be found.
Bonds continue to rally
The ten-year bond yield began the week at 2.28% and rallied to finish at 2.19%. These results completely understate the volatility of the ten-year this week. European sovereigns were rallying (except for the PIIGS[1. Portugal, Italy, Ireland, Greece, and Spain]) on fears of economic weakness. The ten-year bond was pulled along for the ride, with yields touching briefly below 2% on Wednesday morning after the disappointing retail sales numbers. Stocks were getting hammered as well, which fed into the flight-to-quality trade. A combination of automatic asset allocation trades, convexity buying, hedge fund capitulation, and flight-to-safety trading came together in a perfect storm to drive yields lower.
Article continues below advertisement
The turning point seemed to be when Fed Reserve Bank of St. Louis President James Bullard mused that the Fed should consider maintaining quantitative easing or QE instead of tapering at the October FOMC meeting. This observation came in response to the volatility in the markets. Bullard's remark reassured investors that the Fed was still on their side. The federal funds futures reassessed their forecast for the first rate hike to later in 2015, and stocks turned positive. This caused the bond market to sell off. For the time being, it looked like the great bond market capitulation of 2014 took place on Wednesday morning.
Outlook
Overall, recent economic data point to a strengthening economy. But housing remains stubbornly depressed. The first-time homebuyer remains over-indebted with student loan debt and faces a tough job market. But the lower rates are helping the real estate market somewhat. Mortgage origination activity is picking up. Over the medium term, bond yields will probably rise and fixed-income securities will sell off.
In the next part of this series, we'll look at mortgage rates. In the following parts, we'll address trading in the TBA market. The TBA market establishes the base for mortgage rates. We'll also discuss how mortgage rates did for the week