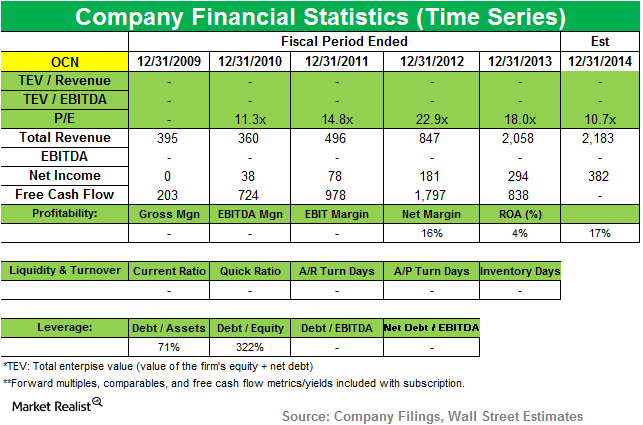 Must-know: Omega Advisors increases its position in Ocwen Financial
By Samantha Nielson

Nov. 7 2019, Updated 7:30 p.m. ET
Overview
Omega Advisors' new positions include hedge fund favorites—Navient (NAVI), KKR & Co. (KKR), and Apple (AAPL). It also raised its stakes in Comcast Corp. Class A shares (CMCSK) and Ocwen Financial (OCN). The top positions sold were Dollar General (DG) and ADT Corp. (ADT).
Omega's 13F filing revealed that it increased its stake in Ocwen Financial. The position currently accounts for 1.27%, up from 0.12% of the fund's first quarter of 2014 (or 1Q14) portfolio.
Ocwen Financial Corporation
Article continues below advertisement
Ocwen Financial is a financial services holding company that, through its subsidiaries, is one of the largest mortgage companies in the U.S. The company is the fourth largest mortgage servicer in the U.S. and operates in the servicing industry by helping to keep borrowers in their homes through foreclosure prevention. Its primary lines of business are servicing and lending.
Shares fall on restatement of financial results
The nonbank mortgage servicer, which is owned by billionaire founder William C. Erbey, saw shares fall over the investigation of Ocwen's internal and accounting controls. The company said last month that it was restating its financial results for at least 1Q14 and all of 2013 to reflect a change in the valuation method for its financing liability.
It added that the changes were in relation to material weakness over accounting for particular transactions, especially the sale of mortgage servicing rights (or MSRs) to Home Loan Servicing Solutions (HLSS). The shares are down 22% year to date.
Ocwen sees SEC investigation over business dealings with affiliate companies
Article continues below advertisement
In June, Ocwen said it received a subpoena from the Securities and Exchange Commission (or SEC) requesting various documents relating to the business dealings with Altisource, Home Loan Servicing Solutions, Altisource Asset Management (AAMC), and Altisource Residential (RESI), and the interests of the company's directors and executive officers in those companies.
Ocwen said it also expects an additional subpoena relating to amendments to its financial results. Ocwen's executive chairman, Erbey, is also the chairman for Altisource, HLSS, AAMC, and RESI.
In February, Ocwen was asked by the New York State Department of Financial Services (or DFS) to put its planned rights purchase to service mortgages with Wells Fargo "on an indefinite hold." The deal was worth $2.7 billion, and the portfolio consisted of approximately 184,000 loans, with a total principal balance of $39 billion.
In a letter to Ocwen's general counsel in August, Benjamin Lawsky, Superintendent of Financial Services, said that the DFS was "reviewing a troubling transaction involving Ocwen's related company, Altisource Portfolio Solutions, and the provision of force-placed insurance."
Article continues below advertisement
According to DFS's website, "Force-placed insurance, also known as creditor-placed, lender-placed or collateral protection insurance is an insurance policy placed by a lender, bank or loan servicer on a home when the property owners' own insurance is cancelled, has lapsed or is deemed insufficient and the borrower does not secure a replacement policy. This insurance allow [sic] the lender to protect its financial interest in the property."
The letter said that the "complex arrangement appears designed to funnel as much as $65 million in fees annually from already distressed homeowners to Altisource for minimal work." The letter added that Ocwen's chairman, Erbey, has played a role in approving the arrangement.
The letter further said that the "Department's recent investigation into force-placed insurance revealed that mortgage servicers were setting up affiliated insurance agencies to collect commissions on force-placed insurance, and funneling all of their borrowers' force-placed business through their own agencies, in violation of New York Insurance Law."
Ocwen misses on earnings and revenue estimates for second quarter
Article continues below advertisement
For 2Q14, Ocwen generated revenue of $553.1 million, up 2% compared 2Q13. Revenue from servicing and subservicing fees was up 2% year-over-over. Gain on loans held for sale increased in 2Q14 due to a shift in the forward origination business mix from the lower margin correspondent channel to the higher margin direct channel. Net income of $67.0 million, or $0.48 per share, was below net income of $76.7 million, or $0.53 per share, for 2Q13.
Ocwen's management noted on its earnings call that the company is benefiting from an improving U.S. economy and a heightened regulatory environment. The company also sees an opportunity arising from traditional banks that are preferring to shift away from mortgage servicing and transferring these activities to nonbank servicers such as Ocwen.