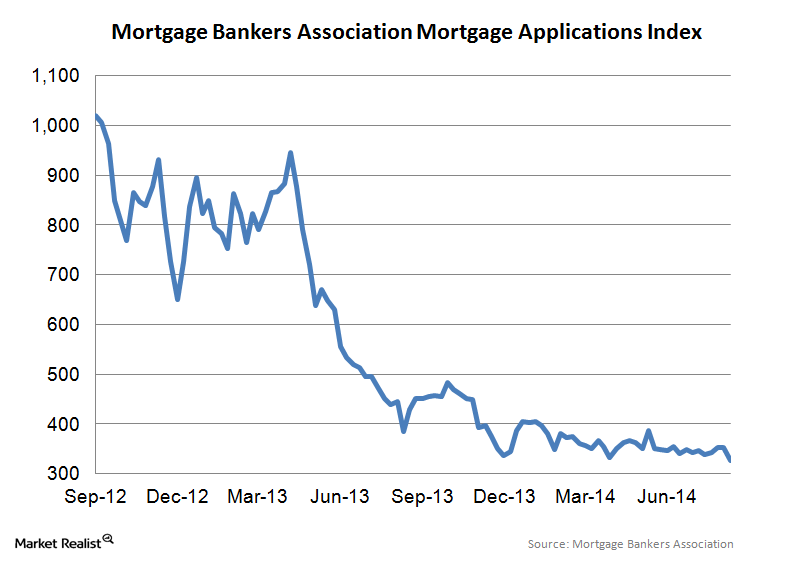 Why mortgage applications hit 14-year lows as refinances dry up
By Brent Nyitray, CFA, MBA

Sep. 12 2014, Updated 1:50 p.m. ET
Mortgage applications decreased 7% amid a bond market sell-off
The MBA Applications Index fell 7.2% after rising 0.2% the week before. This is the lowest reading for the MBA Mortgage Applications Index since early 2001. This drop was a function of a short holiday week and a bond market sell-off that sent rates up 12 basis points.
Key changes
The increase in interest rates has hurt earnings for originators. Virtually every originator and virtually every bank that has a large origination business noted decreased earnings in this sector. The easy money from the 2012 refinance wave has been made, and now the originators focus most closely on the new regulatory landscape that's taking shape beginning January 1—most notably the qualifying mortgage rule, but also new rules concerning loan officer compensation et cetera.
The mortgage market is undergoing a massive transformation as the private-label mortgage market returns. Bob Corker (R-TN) and Mark Warner (D-VA) recently introduced a bill to end GSEs (government-sponsored enterprises) and put the government in a reinsurance role.
Article continues below advertisement
FHFA Chairman Mel Watt has tried to make mortgages more affordable by suspending the planned rate increases that Fannie Mae and Freddie Mac issued. Since the bubble burst, mortgage origination has been almost exclusively government-driven. The big buyers of new origination have been the agency REITs like Annaly (NLY) and American Capital (AGNC). The U.S. government bears 50% of the credit risk of the entire U.S. mortgage market. Originators typically don't hold their mortgages: they either sell them to the big banks or securitize them.
Since the securitization market has been dead, originators have no outlet for non-agency mortgages. Redwood Trust (RWT) has been the only issuer of private-label mortgage-backed securities (securities backed by mortgages that aren't government-guaranteed), and it has focused exclusively on high-quality jumbo loans. In the beginning of the year, we saw a wave of private-label deals and then a slowdown as rates began to increase.
We're starting to see more deals again as the market has adjusted to the new interest rate regimen. The vast majority of the deals were extremely high-quality loans with significant over-collateralization, so they look nothing like the private-label deals done at the end of the bubble.
Outlook
The sense is that more deal flow will happen once the government settles on how it wants to regulate private-label securitizations. Finally, increases in origination will help servicers like Nationstar (NSM) and Ocwen (OCN).