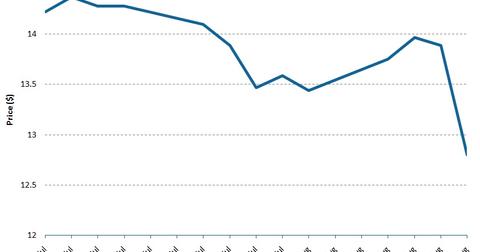 Russian sanctions to impact businesses positively and negatively
By Surbhi Jain

Updated
Russian sanctions will impact businesses
On August 7, Russia came out with its list of sanctions on imports of fruit, vegetables, meat, fish, milk, and dairy products from the U.S., European Union (or EU), Australia, Canada, and Norway. The move came with the  intention to retaliate against the sanctions imposed by the U.S., EU, and Canada targeting some of Russia's key companies including Gazprombank—a subsidiary of Russia's energy giant Gazprom (OGZPY) and Rosneft Oil Co. (OJSCY). Foreign investments are exiting exchange-traded funds (or ETFs), like the VanEck Vectors Russia ETF (RSX) which invests extensively in Russia, because the ETFs are declining.
Negative impacts
Article continues below advertisement
The sanctions would negatively impact agriculture businesses and meat processing or packaging companies in the sanctioned nations that derive a good proportion of their export revenues from Russia. Marine Harvest ASA (MHG)—a Norwegian seafood company in the production, processing, and sale of farmed salmon, commanding a 30% share in the global salmon and trout market—saw its equity plunge in the stock markets. Shares of the company saw their biggest decline in almost three years.
Graal SA, a Polish producer of canned fish, slumped 5.2% on ten times the three-month average daily volume.
Lithuania is the most vulnerable to Russian sanctions, where exports of the banned Russian products are equivalent to 2.5% of gross domestic product (or GDP).
Positive impacts
Given the sanctions it has imposed on its Western allies and Australia, Russia now intends to increase food imports from Ecuador, Brazil, Chile, and Argentina. Brazilian agriculture policy secretary Seneri Paludo sees the sanctions as an opportunity to boost Brazil's exports of beef, pork, poultry, corn, and soybeans to Russia.
The sanctions could have a positive impact on companies in the meat business in countries other than those sanctioned. Brazil and Turkey are already seeing a rally in their equity in the stock markets.
The shares of Minerva SA (MRVSY), Brazil's third-largest beef producer, increased on an expectation of a rise in its sales, as Russia imports more from it. The shares of the company reached their highest level in 16 months.
Shares of Banvit Bandirma Vitaminli Yem Sanayii Ticaret AS, a Turkish chicken breeder, increased about 4.1% on the news.
Shares of Empresas Aqua Chile SA and Multiexport Foods SA, salmon producers based in Chile, also increased.
Food companies in Thailand and China, and African producers, may also benefit from the sanctions.
Continue reading the next section in this series to understand how the sanctions may negatively impact Russia.