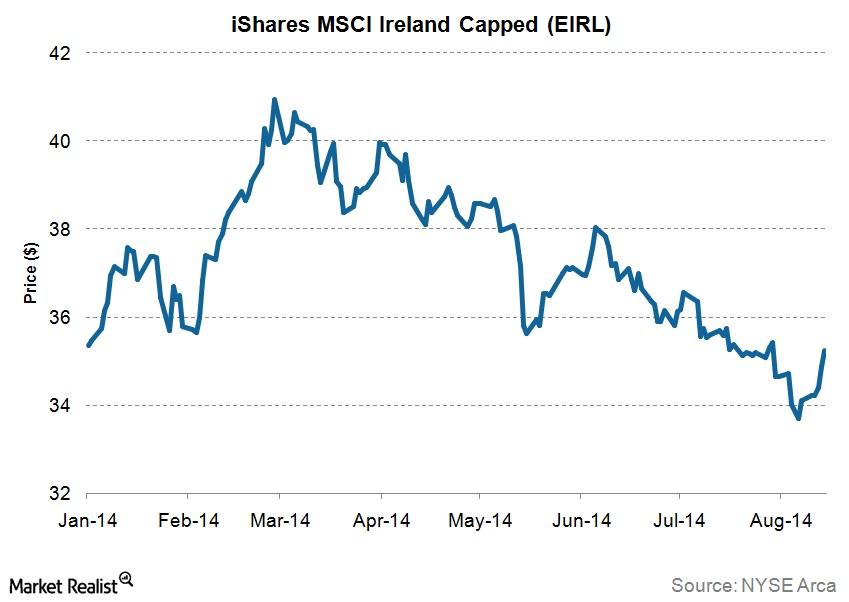 Must-know: Investing in Ireland
By Surbhi Jain

Dec. 4 2020, Updated 10:53 a.m. ET
Investing in Ireland
Ireland's economy is currently rated single-A by rating by Standard & Poor's, Baa1 by Moody's (MCO), and A- by Fitch. The country was recently upgraded to an A- rating from BBB+ by Fitch on Friday, August 15.
Reducing riskiness
Ireland recently slipped one place in Blackrock's (BLK) quarterly Sovereign Risk Index. It now stands 41st out of 50 in a ranking of the most risky places to invest—one place behind Nigeria and just ahead of Hungary.
Article continues below advertisement
The Sovereign Risk Index is compiled using a mix of quantitative measures along with perceived effectiveness and stability of governments and corruption. It breaks down the data into four main categories. Each category carries a different weight in the index—fiscal space at 40%, willingness to pay at 30%, external finance position at 20%, and financial sector health at 10%. Blackrock set up the index in 2011 after the credit crunch. It was against the backdrop of a debt crisis in the Eurozone. The crisis was focused on Greece. It intended to provide investors with a more in-depth measure of sovereign debt risk.
Ireland can repay its bailout loans
Considering the improving and strengthening economic situation in Ireland, its Finance Minister Michael Noonan has said taxpayers could save up to $500 million per year if the state was able to pay-off a share of the International Monetary Fund (or IMF) portion of the $90 billion bailout.
On August 12, the IMF assured Ireland that it could repay its bailout loans earlier free of charge and without any conditions. The IMF said "It is in everyone's interests that Ireland's debt position is made more sustainable and that this annual saving is achieved for the benefit of Irish taxpayers."
However, Ireland's government needs to follow-up on this with the other international lenders who provided them with funds under the bailout program. Their consent is required to avoid early repayment of the IMF loans. This would trigger proportionate repayments to the other lenders.
Investing in Ireland
Article continues below advertisement
The improving fundamentals, rising consumer sentiment, and upbeat manufacturing sector have created new hope for investors in exchange-traded funds (or ETFs) like the iShares MSCI Ireland Capped ETF (EIRL). The ETF seeks to match the performance and yield of MSCI All Ireland Capped Index. The fund holds a small basket of 24 stocks and the top holding—CRH PLC (CRHCF). CRHCF alone comprises a little under one-fifth of the total fund assets. Sector-wise, basic materials and consumer defensive combine to make up 55.68% of the total fund assets. The fund has an expense ratio of 0.48%.
In the next part, we'll analyze the riskiest investment destination among the PIIGS (or Portugal, Ireland, Italy, Greece, and Spain) quintet—Greece. After defaulting in 2012, Greece successfully returned to debt markets in April. As recent as July 10, Greece raised close to $2.04 billion in a debt sale. Continue reading the next part of this series to find out what macro-economic factors supported the recent Greek bond sale.