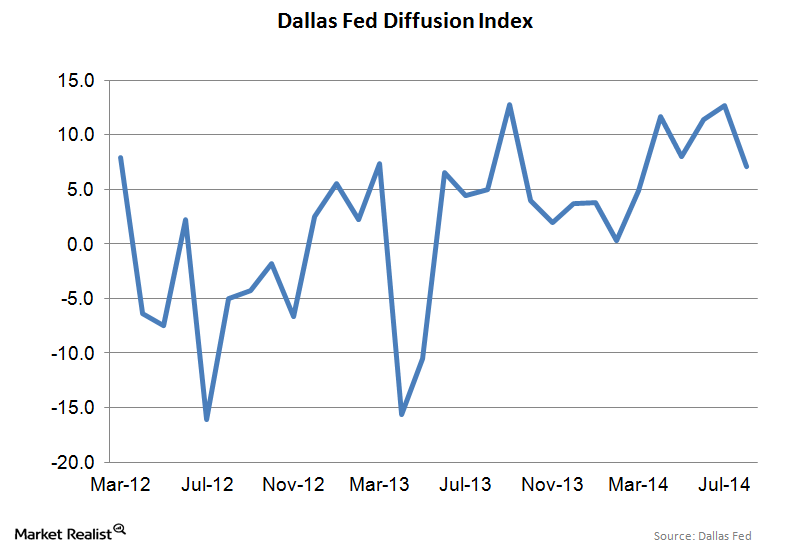 Manufacturing decelerates in the Dallas region, affecting REITs
By Brent Nyitray, CFA, MBA

Nov. 20 2020, Updated 3:11 p.m. ET
The Dallas Fed Manufacturing Index focuses on business activity
The Dallas Fed conducts its Texas Manufacturing Survey monthly. The survey's similar to many of the other regional Fed surveys, like the Empire State Manufacturing Survey, the Chicago Fed National Activity Index, or the Philly Fed. These are all diffusion-type indices that ask respondents whether a certain metric is increasing, decreasing, or staying the same.
Article continues below advertisement
The survey subtracts the percentage of people reporting a decrease from the number of people reporting an increase to come up with the results. In other words, if businesses are asked about their hiring plans, and 30% say they intend to add to payroll, 45% say they're holding steady, and 25% say they're decreasing payroll, the index would be 30 – 25 = 5. That's generally how all diffusion indices work.
So what exactly does this index tell you?
The Dallas Fed survey asks about output, employment, orders, prices, shipments, inventories, capacity utilization, prices, capital expenditures, and some other indicators. It asks respondents for their six-month outlook and usually about a subject in depth.
Highlights of the survey
The General Business Activity Index fell to 6.8 from 19.1 the month before. The six-month outlook fell as well, to 18.7 from 18.8. Capital expenditures fell, and the growth rate of orders collapsed. The labor market held steady and 21% of firms increased payroll while 10% had layoffs. This partially explains why the Texas housing market is doing so well.
Impact on mortgage REITs
Interest rates are the biggest driver of mortgage REIT returns. Nothing in this report would encourage the Fed to change its current course. The employment indices were encouraging, and the prices paid and received were flat. This is consistent with the Fed's current path—tapering quantitative easing as the labor market improves and leaving short-term rates as low as it dares as long as inflation behaves.
Still, it's been a painful adjustment period for the REITs. As the ten-year bond has sold off, mortgage REITs—like Annaly (NLY), American Capital (AGNC), MFA Financial (MFA), and Hatteras (HTS)—have underperformed.
Increasing rates are a double-edged sword for the REITs. On one hand, continued low rates mean their cost of leveraging their portfolio is low. But on the other hand, they take mark-to-market hits on their portfolio even as interest margins increase.
Although increasing rates will lower prepayment risk for the REITs, increasing real estate prices would allow some FHA borrowers to refinance into a conforming mortgage and save on mortgage insurance payments. Prepayments will negatively affect mortgage REITs. They're forced to reinvest into lower-yielding paper. Investors who want to make directional bets on interest rates should look at the iShares 20+ year bond ETF (TLT).
The continued volatility in the bond market will negatively affect mortgage REITs, as mortgage-backed securities generally perform best in a stable interest rate environment.