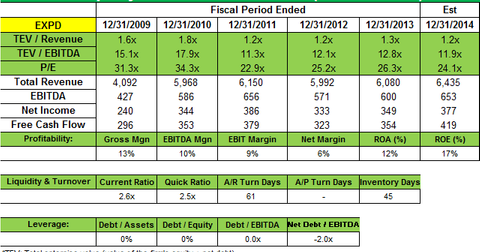 ValueAct buys a stake in Expeditors International of Washington
By Samantha Nielson

Updated
ValueAct Capital and Expeditors International of Washington
Jeffrey Ubben's ValueAct Capital Management acquired new positions in Symantec Corp. (SYMC) and Expeditors International of Washington Inc. (EXPD). Although no positions were sold, the fund trimmed a position in Micros Systems Inc. (MCRS). Notable position increases included Microsoft Corp. (MSFT) and MSCI Inc. (MSCI).
ValueAct Capital initiated a new position in Expeditors International of Washington Inc. (EXPD) that accounts for 0.65% of the fund's first quarter portfolio.
Article continues below advertisement
Expeditors International of Washington, Inc., is a global logistics company. The company's services include air and ocean freight consolidation and forwarding, customs brokerage, warehousing and distribution, purchase order management, vendor consolidation, time-definite transportation services, cargo insurance, and other logistics solutions. The company derives its revenues from airfreight services, ocean freight and ocean services, and customs brokerage and other services. It generates the major portion of its air and ocean freight revenues by purchasing transportation services on a wholesale basis from direct (asset-based) carriers and reselling those services to its customers on a retail basis.
Despite external challenges, Expeditors' earnings top estimates
The company's 1Q earnings topped estimates, while revenues were in line with expectations. This was in contrast to 4Q 2013, when shares fell due to an earnings miss. Expeditors reported diluted net earnings of $0.42, as compared with $0.39 for the same quarter in 2013, an increase of 8%. Total revenues were up 6% to $1.49 billion. Net earnings increased 4% to $83 million for the first quarter of 2014. Management said, "Ocean freight and airfreight volume increased 12% and 6%, respectively. Disciplined execution was responsible for increasing our operating margin percentage from the 2013 first quarter, while also efficiently handling the acceleration in business we experienced during the last part of the quarter." The company said it saw several significant external challenges in the quarter, including weather issues and continued concern over the strength of the economy.
Expeditors saw volatile ocean freight pricing earlier this year
Article continues below advertisement
In 4Q 2013, which saw Expeditors missing earnings estimates, management said, "Pricing in the ocean freight market continued to be weak and somewhat volatile, reflecting the underlying economic challenges that faced ocean freight carriers caused primarily by overcapacity concerns. We also saw the impact of these volume increases spill over into customs brokerage and other services."
From a geographic standpoint for 1Q 2014, Expeditors said, "We had strong double digit operating income growth from our Americas group, while our Asia-Pacific and Europe, Africa, Near/Middle East, and Indian Subcontinent (EMAIR) groups, though steady, were essentially flat. From a product perspective, while we continued to manage through short cycles of rate instability and volatility, we successfully gained market share in both the ocean and airfreight markets."
Expeditors conducts a strategic reassessment to refine its focus
The company is focused on actively pursuing opportunities for profitable market share expansion and driving efficiencies in operational processes. It said it's conducting a comprehensive strategic reassessment of its various market positions and organizational structures, the objective of which will be to bring greater alignment and focus on the most cost-beneficial opportunities.
Expeditors recently declared a semi-annual cash dividend of $0.32 per share. In 1Q 2014, Expeditors repurchased 5.7 million shares at an average price of $39.61 per share.
IATA sees a modest slowdown in air freight markets while Moody's assigns a stable rating to global ocean cargo industry
Article continues below advertisement
The International Air Transport Association (IATA) released data for global air freight markets in April, showing demand was 3.2% above the previous year. However, demand hasn't grown in recent months, and prior improvements in the demand environment are experiencing some reversal, IATA said. Indicators of business confidence slipped further in April, mainly due to a slowdown in emerging markets, especially China. IATA said that world trade growth has also slowed over recent months, but "momentum in advanced economies remains intact, and export orders still point to expansion." IATA expects the current demand situation to be temporary.
Moody's, earlier this month, assigned a "stable" rating to the global ocean cargo industry. The ratings agency noted, "Cost reductions – including the effects of lower bunker prices, as well as the application of slower steaming speeds and efficiency savings – have driven the growth in EBITDA. At the same time, market conditions remain tepid, but are not deteriorating, with freight rates for the dry-bulk segment showing some improvement but those for the container segment remaining under pressure."