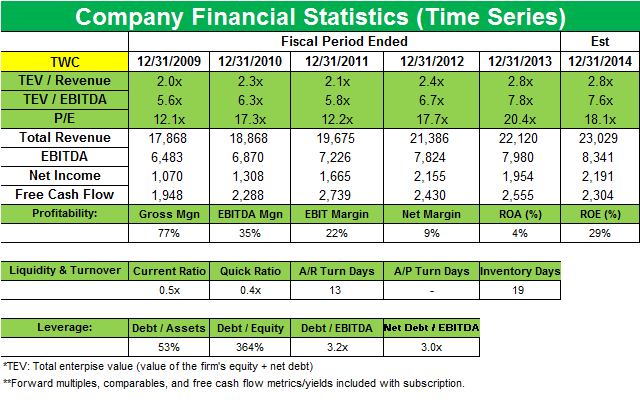 Must-know: D.E. Shaw increases position in Time Warner Cable
By Samantha Nielson

Nov. 20 2020, Updated 3:30 p.m. ET
D.E. Shaw and Time Warner Cable
D.E. Shaw bought new small positions in Crescent Point Energy (CPG), Knowles Corp. (KN), and St. Jude Medical (STJ). Notable position decreases were in Apple (AAPL) and Bank of America (BAC). The fund increased positions in Liberty Global PLC (LBTYK) and Time Warner Cable (TWC).
D.E. Shaw upped its position in Time Warner Cable (TWC) that accounted for 0.17% of the company's U.S. long portfolio in 4Q13. The position accounts for 0.69% of the 1Q14 portfolio.
Article continues below advertisement
TWC is among the largest providers of video, high-speed data, and voice services in the U.S., with well-clustered cable systems located mainly in five geographic areas—New York State (including New York City), the Carolinas, the Midwest (including Ohio, Kentucky, and Wisconsin), southern California (including Los Angeles), and Texas. As of March 31, 2014, TWC had approximately 15.2 million customers who subscribed to one or more of its video, high-speed data, and voice services. During 2013, TWC's revenue increased 3.4% to approximately $22.1 billion.
Comcast forges deal with Charter to secure TWC merger approval
Comcast (CMCSA) agreed to buy TWC in February for ~$45.2 billion in a deal that would create the largest cable provider in the U.S., with more than 33 million subscribers. Upon completion of the merger, all of the outstanding shares of TWC will be cancelled. Each issued and outstanding share will be converted into the right to receive 2.875 shares of Class A common stock of Comcast. The deal, which is expected to close by the end of 2014, is being scrutinized by the U.S. Department of Justice and the Federal Communications Commission.
Article continues below advertisement
In order to win approval for the merger and keep its market share below 30%, Comcast forged a complex deal in April with Charter Communications (CHTR), which earlier this year saw its takeover bid rebuffed by TWC. Under the deal, Charter will acquire approximately 1.4 million existing TWC subscribers following the close of the Comcast-TWC merger. In addition, Charter and Comcast will swap ~1.6 million customers. Charter, through a tax free reorganization, will form a new holding company (New Charter) that will own 100% of itself. Charter will also acquire an approximate 33% stake in a new publicly-traded cable provider to be spun-off by Comcast serving ~2.5 million customers (SpinCo). With this, Comcast's managed residential subscribers will be below 30% of the total multichannel video programming distributor (or MVPD) subscribers in the United States.
TWC earnings beats estimates in 1Q14, but misses on revenue
TWC beat on earnings, but missed on revenue estimates for its 1Q14 results. 1Q14 revenue grew 2% year-over-year (or YoY), driven primarily by growth of 24.4% in business services revenue and 10.8% growth in residential high-speed data revenue. Net income was $479 million, or $1.71 per basic common share, up from $401 million, or $1.35 per basic common share.
Growth driven by increase in high-speed data subscribers
Article continues below advertisement
Residential Services revenue declined as a result of decreases in video and voice revenue, but benefited from increases in the number of high-speed data subscribers and growth in revenue per subscriber. As of March 31, 2014, TWC served 14.5 million residential service customers and generated approximately $4.6 billion of revenue from the provision of residential services, which represented 81.8% of its total revenue. TWC expects that its video programming costs as a percentage of video revenue will continue to increase, in part due to an increasingly competitive environment.
Business Services revenue growth was primarily due to increases in high-speed data and voice subscribers, organic growth in cell tower backhaul revenue, and $29 million of revenue from fiber optic network company DukeNet, which was acquired in December last year. Revenue increased 24.4% to $668 million, which represented 12% of TWC's total revenue. The company expects continued strong growth in Business Services revenue driven by an increase in the number of customers and revenue per customer. As of March 31, 2014, TWC had 637,000 business customers.
Article continues below advertisement
Other operations revenue increased to $400 million. Advertising revenue increased primarily due to growth in political advertising revenue as well as non-political advertising revenue from advertising inventory sold on behalf of other video distributors. Other revenue increased primarily due to affiliate fees from the Residential Services segment as well as other distributors of the Los Angeles regional sports networks.
Analysts expect increased consolidation in the media space
An editorial in the New York Times recently called for blocking the Comcast-TWC merger because it will lead to "too much market power in the hands of one company." Analysts expect increasing consolidation in the media space with AT&T recently announcing a $49 billion acquisition of satellite TV giant DirectTV. Sprint (S) has shown interest in merging with T-Mobile (TMUS), while Verizon (VZ) denied rumors it was looking at buying DirecTV's rival Dish Network (DISH).
To learn why Netflix opposes the Comcast-TWC merger, please read Why does Netflix oppose the Comcast–Time Warner merger? on the Market Realist website.