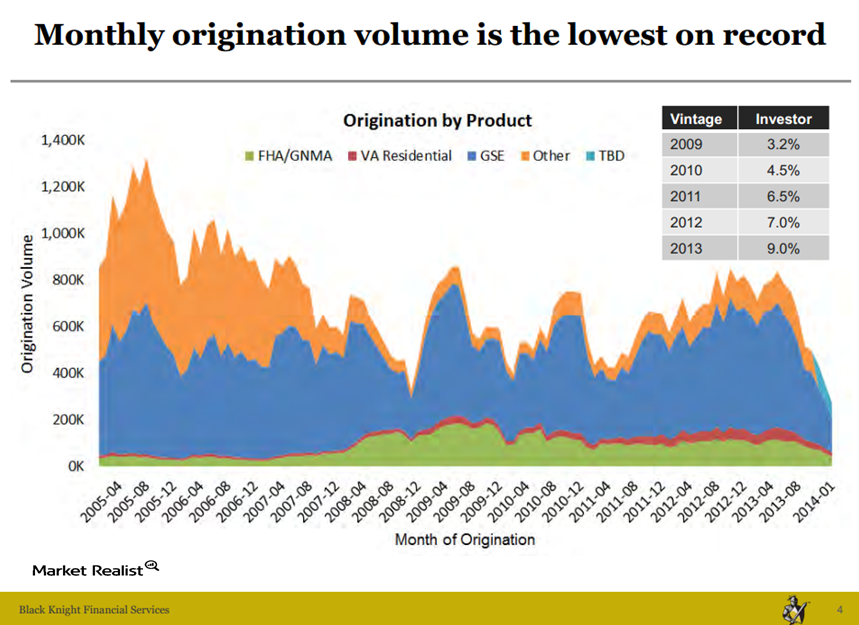 Why more mortgage originators venture into the non-qualified space
By Brent Nyitray, CFA, MBA

Nov. 20 2020, Updated 3:51 p.m. ET
Mortgage origination has fallen off a cliff since rates started rising
Mortgage originators have had a difficult time over the past year, as rates have begun rising. The increase in interest rates pretty much stopped the refinance boom in its tracks. This meant that originators have had to focus on the purchase business, which is a much more difficult channel. Refinance shops were able to put up a website, advertise the best price, and compete for business through awareness and national campaigns. The purchase business is more local and more relationship-driven, and service matters more than price.
The non-QM opportunity
Article continues below advertisement
The Consumer Financial Protection Bureau promulgated a list of requirements for a mortgage to be considered a qualified mortgage (or QM). On January 1, the new QM rules took effect. This rule gives the originator safe harbor from being sued by the borrower if they default, provided that certain requirements are met, the biggest of which is that the debt-to-income ratio must be below 43%. In other words, the mortgage payment and all other debt service can't be more than 43% of the borrower's gross income. Many originators are choosing to stick with QM loans, but some are starting to look at the non-QM opportunity.
Non-QM loans would typically be useful for borrowers with sporadic income but a large amount of assets, but lenders will only consider low LTV loans (like 80% maximum, which really is a ceiling—most lenders are below that). This ensures that the borrower has "skin in the game" and won't choose to default. Plus, we're seeing more of the traditional stated income type loan, which is suited for an independent contractor who can demonstrate cash flow via a bank statement but doesn't necessarily have W-2 income because they don't have an employer.
Implications for mortgage REITs
Mortgage originators like PennyMac (PMT) and Nationstar (NSM) are looking at possibilities in the non-QM space. Impac (IMH) has a non-QM product, but it's holding it for its own balance sheet. Right now, these loans are unsecuritizable, or at least no one has tried to securitize one. The only private-label securitizer has been Redwood Trust (RWT), and it's doing strictly high-quality jumbos. Once the private label market comes back, we could see some non-agency REITs like Newcastle (NCT) or Two Harbors (TWO) take an interest in non-QM securitized loans.
To learn more about investing in mortgage REITs, see the Market Realist series Key releases that could affect your REIT and homebuilder portfolio.