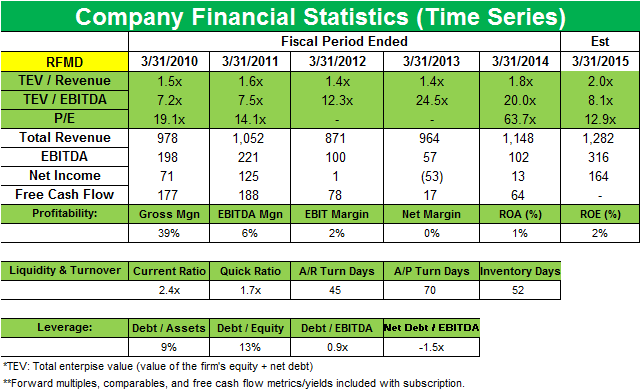 Baupost invests in RF Micro Devices amid its merger with TriQuint
By Samantha Nielson

Nov. 21 2019, Updated 6:03 p.m. ET
The Baupost Group and RF Micro Devices
Seth Klarman's Baupost Group initiated positions in Cheniere Energy Inc. (LNG), Keryx Biopharmaceuticals (KERX), and RF Micro Devices Inc. (RFMD), and the fund exited its positions in Fidelity National Financial (FNF) and Rovi Corp. (ROVI). The fund also pared its position in British oil company BP (BP).
The Baupost Group initiated a position in RF Micro Devices Inc. (RFMD) that accounted for 1.25% of the fund's total portfolio. Baupost also started a new position in RFMD's peer and merger partner, TriQuint Semiconductor (TQNT), that accounts for 1.24% of the fund's $4.13 billion portfolio.
Article continues below advertisement
Chipmaker RF Micro Devices designs and manufactures high-performance radio frequency systems and solutions. The cellular handset industry is its largest market, and it offers products for mobile devices, including PA modules, transmit modules, RF power management ICs, switch filter modules, switch duplexer modules, and antenna control solutions. TriQuint also provides a comprehensive portfolio of advanced, high-performance radio frequency (RF) solutions. Mobile devices represents the largest of its three major end markets.
RF Micro Devices to merge with TriQuint 
Shares have risen since February, when RFMD announced a definitive merger agreement under which RFMD and TriQuint Semiconductor will combine in an all-stock transaction.
The $1.6 billion merger between RF Micro Devices and TriQuint is expected to create new growth opportunities for the companies in three large global markets—mobile devices, network infrastructure, and aerospace and defense—with scale advantages, innovative new products, and a greatly improved operating model.
Details of the transaction
Under the transaction, which is intended to qualify as a tax-free reorganization, TriQuint shareholders will receive 1.675 shares of the new merged company (NewCo) and RFMD shareholders will receive one share of NewCo for each TriQuint or RFMD share held. At the closing of the transaction, the companies will execute a one-for-four reverse stock split, resulting in approximately 145 million shares outstanding. Former shareholders of RFMD and TriQuint will each own approximately 50% of the new company post-merger. The transaction represents an implied price of $9.73 for each TriQuint share, representing a 5.4% premium based on the closing price of $9.23 for TriQuint on February 21, 2014.
Article continues below advertisement
The release said the combination will create a leader in infrastructure and defense (with approximately $500 million in annual revenue), with a broad portfolio of products and foundry services supporting applications including radar, next-generation base stations, optical communications, and the Internet of Things. The combination is expected to achieve at least $150 million in cost synergies, $75 million in annualized synergies exiting the first year after closing, and an additional $75 million exiting the second year. The transaction is expected to be accretive to non-GAAP EPS in the first full fiscal year following the transaction's close.
Results beat estimates despite revenue decline
RFMD fiscal 4Q 2014 results beat estimates despite revenue decline of 8.8% to $256 million. Net loss narrowed to $1.0 million or $0.00 per share, compared to a net loss of $16.00 million in the same period the previous year. The company's forecast for the current quarter was above Street estimates at adjusted earnings of about $0.17 per share on revenue of $305 million. Management noted, "RFMD's March 2014 quarterly non-GAAP gross margin of 42.0% represents 760 basis points of year-over-year margin expansion, versus 34.4% in the prior-year period. In the June 2014 quarter, we anticipate continued margin expansion of approximately 150 to 200 basis points."
Article continues below advertisement
The company's overall revenue increased $184.1 million, or 19.1%, in fiscal 2014 compared to fiscal 2013, reflecting increased demand for cellular RF solutions for smartphones and WiFi products. Cellular Products Group revenue increased $173.9 million, or 22.8%, in fiscal 2014. Multi-Market Products Group revenue increased $10.2 million, or 5.0%.
RFMD anticipates growth opportunities from new technologies in smartphones and the Internet of Things

RFMD stands to benefit as TriQuint supplies radio frequency chips to Apple (AAPL) and Blackberry (BBRY). RFMD's biggest customer is Samsung Electronics, which accounted for approximately 22% of RFMD's net revenue in fiscal 2013, followed by Nokia (NOK).
RFMD's management said, "RFMD's diversified growth strategy is also driving additional growth opportunities in new categories, like antenna tuning, impedance tuning, diversity switches, power management circuits, highly integrated receive modules, and, soon, our RF Fusion, which is a complete RF front end solution for 4G world phones and tablets."
The company added on the earnings call that RFMD is also positioned to capture additional growth created by the Internet of Things, which includes "trends like embedded connectivity, wearable technology, the connected home, automotive WiFi and others." According to industry analyst firm Strategy Analytics, the proliferation of multi-band LTE devices is expected to drive phenomenal growth in shipments of antenna tuning components, reaching 1.8 billion units per year by 2018."
RF Micro Devices expects quarterly revenue to increase approximately 19% sequentially to approximately $305 million. It forecast non-GAAP EPS of approximately $0.17 for the June 2014 quarter.  Management added, "In the June quarter and beyond, RFMD anticipates revenue growth ahead of the growth rate of our underlying markets, supported by distinct, long-term growth drivers, like the deployment of TD-LTE in China, two-by-two MIMO Wi-Fi connectivity in smartphones, additional 3G bands in entry smartphones, additional 4G bands in feature phones, and the advent of new technologies, like envelope tracking, carrier aggregation, and transmit MIMO." TriQuint said it expects "the combination of crowded spectrum, carrier aggregation, and expanding LTE adoption will continue to drive growth in our 4G/LTE end market."