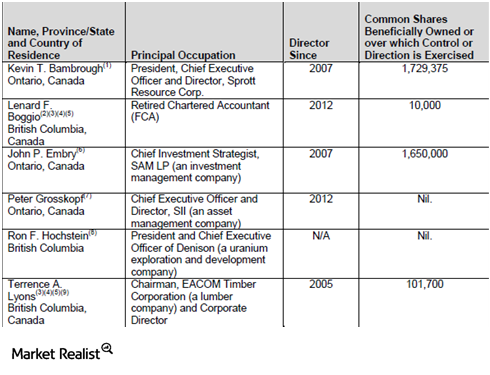 Sprott Resource Corp.'s management has an impressive track record
By CUSH Capital

Nov. 22 2019, Updated 7:05 a.m. ET
Management Team
Steve Yuzpe, former Sprott CFO, took over as CEO from Kevin Bambrough in October of 2013. Mr. Bambrough left for personal reasons, "to pursue other opportunities," but as an investor, you can't help but wonder if the dividend debacle might have also played a small part in the decision. Nevertheless, our experience with Steve Yuzpe has been an extremely favorable one and we have confidence in his abilities to lead the company going forward. Please note that the chart shows Mr. Bambrough owns over 1.7 million shares, not quite 2% of the company. To be honest and for full disclosure, now that he is no longer considered an executive and an insider of the company, we have no way of knowing if he still owns this stock or not.
Article continues below advertisement
As we stated earlier, we have spent considerable time on the phone with Mr. Steve Yuzpe. Mr. Yuzpe is a straight shooter and someone who is passionate about the long-term prospects for SRC (SCPZF). Mr. Yuzpe has ten years of financial administration management experience. Mr. Yuzpe holds a Bachelor of Science, Engineering (Mechanical), degree along with the Professional Engineering designation and a Masters in Business Administration from the Richard Ivey School of Business in London, Ontario. Mr. Yuzpe is also a Chartered Financial Analyst (CFA) charter holder. He is currently the chairman of One Earth Farms Corp. as well as a Director of One Earth Oil and Gas, Inc.
Sprott announced on December 5, 2013, that they had named Michael Staresinic as the company's new CFO. Mr. Staresinic has more than 12 years of experience in the financial services industry. Prior to joining Sprott Resource Corp., he was vice president of finance at Sprott Inc. where he was also a key member of the mergers and acquisitions team. Previously, Mr. Staresinic spent nine years as vice president of finance at a publicly listed alternative asset management firm. Mr. Staresinic is a chartered professional accountant, chartered accountant, CFA charter holder, and chartered alternative investment analyst. He holds an Honors Bachelor of Mathematics in Chartered Accountancy from the University of Waterloo.
Article continues below advertisement
We have not had a chance to talk to Mr. Staresinic yet but it looks like the parent corporation brought in a mergers and acquisitions person with whom they were very familiar. At first glance and from talking with Steve, this looks to be a fine hire. In looking at the Executive Management Team, we also see a new managing director, Rick Rule. We are very familiar with that name, as Mr. Rule is director, president, and chief executive officer of Sprott US Holdings, Inc. Mr. Rule leads a highly skilled team of earth science and finance professionals who enjoy a worldwide reputation for resource investment management. He is a frequent speaker at industry conferences, and we have heard him interviewed on various radio, television, and podcast programs concerning natural resource investment and industry topics. It would appear that the parent company is getting a lot more hands-on in SRC, we find that a very good thing. We don't usually mention the board of directors of most of the companies we invest in but we have included the following link, as this is a board worth mentioning. Information about the board of directors can be found at the following link.
Some additional notes of interest that add to the case are listed in the next part of this series. There is so much to this story that it warrants some extra discussion in the Management section.
The Market Realist Take
Managing director Rick Rule,  who is also chairman of Sprott Global Resource Investments, is bullish about gold and believes the overall bull market will return and produce substantial returns to investors who own gold. He said in a recent interview cited by SprottGlobal, "Investing in natural resources and precious metals is attractive today because the sector is so much cheaper than it was three years ago. Many of the stocks are trading at a 90% discount to their prices in 2011. For a contrarian investor, I believe that we are seeing a historic opportunity now."
Tahoe Res Inc. (TAHO), Primero Mining Corp. (PPP), Guyana Goldfields Inc. (GUYFF), and Fortuna Silver Mines (FSM) were some of the stocks Rule named in another interview with The Gold Report. He added that for precious metals, the industry has spent tens of billions of dollars during the past 15 years on exploration, construction, and production. "The production numbers for precious metals have been going sideways for gold and silver and going down for platinum and palladium. Supply constraints on a global basis led to the bottoming and then the recovery of commodity pricing," Rule noted.