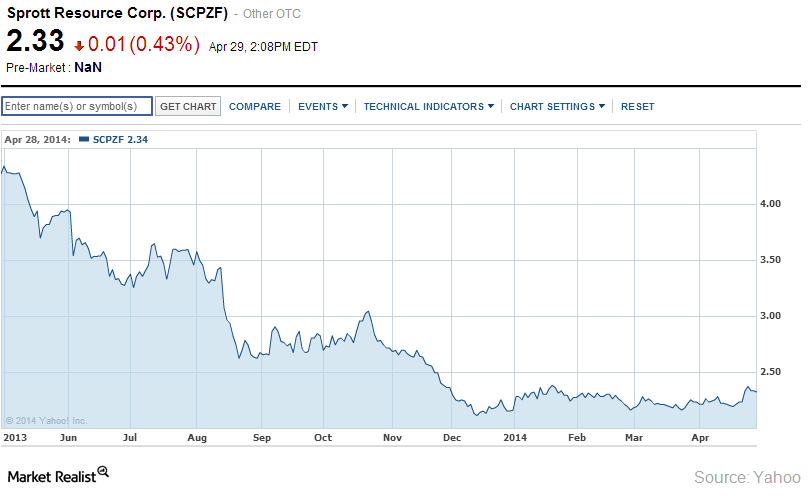 Sprott presents a compelling opportunity at a good trading price
By CUSH Capital

Nov. 20 2020, Updated 1:18 p.m. ET
Investment thesis
Any long-term value investor knows the benefit of following a stock for a significant length of time. You get to know the management team and the business and gain an intuitive sense for the intrinsic value of the company in differing scenarios. This has been our experience with Sprott Resource Corp. (SCPZF), a company we have profited from in the past, but also a company that has disappointed us at times. The latter was the case in 2013. This experience leaves us in a unique position to take advantage of the current opportunity as Sprott trades more cheaply today relative to its net asset value (NAV) than at any time since its IPO in 2007.
Article continues below advertisement
Sprott is like a private equity company that primarily holds natural resource related investments. In late 2012, they initiated a dividend in an attempt to force the market to recognize the underlying value in their shares. Management hoped to be able to use the more fairly valued equity to finance opportunities in the resource space. This did not occur as 2013 turned out to be a very difficult year for commodities in general and in particular gold which Sprott was using to partially support the dividend. The challenging environment for natural resource stocks and three-standard deviation event for gold necessitated a dividend cut in August of 2013.
We abandoned our position when the dividend cut was announced—partly because it represented a failure on management's part, but having more to do with the slide that almost always comes in the wake of these announcements as income investors reallocate their portfolios. Although not pleased with the decision to initiate and then cut a dividend inside of 12 months, we are willing to give management the benefit of the doubt and not hold them completely accountable for the year that was 2013 (the aforementioned three-standard-deviation event amounted to the worst return for gold in over 90 years). We addressed the same issue in our August 2013 newsletter talking about gold. This was certainly an unforeseen event.
Article continues below advertisement
As a possible consequence of all this volatility, Kevin Bambrough, chairman and CEO, announced that he would step down on October 22, 2013. He was replaced by Steve Yuzpe, then-CFO. We respect and like Steve and were very happy for him, as we have spent considerable time on the phone with him over the last few years. Moreover, we view his and other executives' recent insider buying in a very positive light and a likely signal that the bottom is in.
Not only do we have strong insider buying but the investment case is getting easier and easier to make. While Sprott's share price has been bottoming out due to the dividend cut, Long Run Exploration (LRE.TO), Sprott's largest holding, has seen its share price increase over 30% since the end of June 2013 (versus Sprott, down 36%) and now represents 64% of Sprott's current market value. In total, Sprott Resources is a compelling value; the company has a NAV of $3.65 and trades for $2.20.
The Market Realist Take
Article continues below advertisement
Sprott's largest holding, Long Run (WFREF), said it has assembled large land blocks and has invested in natural gas and crude oil infrastructure in its key areas so as to obtain operatorship, build up multi-year inventory of locations, and control of the facilities. The company's near-term strategy is to develop the potential of its oil resources, selectively explore on its current land base, and maintain a continued strong focus on cost control and efficiencies. Plus, Long Run will continue to pursue strategic asset and corporate acquisitions of crude oil and natural gas properties.
In 2014, the company said it's transitioning its business model to a balanced intermediate producer paying a monthly dividend while continuing to provide moderate per-share growth to shareholders. This model is supported by operating and developing assets already in the Long Run portfolio of producing properties. Long Run expects to fund dividend payments and capital expenditures from its funds from operations. Funds flow from operations for 2013 was CAD$230 million ($209 million, CAD$1.83 per share), a 78% increase (30% per share) over 2012 of CAD$129 million (CAD$1.41 per share).
Article continues below advertisement
Another holding, One Earth Oil & Gas or OEOG, is a private corporation engaged in the exploration and production of oil and gas in Canada in partnership with the Métis and First Nations. The company's primary operations as at December 31, 2013, were in central and northwest Alberta. OEOG's primary focus in 2014 will be the advancement of the Gift Lake joint venture through, among other things, additional exploration and development activity, the completion of required commitments under its joint venture, and securing access to capital necessary to support these activities.
Canadian oil and gas stocks rallied during the first quarter of 2014 on the back of rising oil and natural gas prices, shrinking oil price differentials, a declining Canadian dollar, and a rebound in foreign fund flows in the energy space. These factors could benefit Long Run Exploration and its peers, Baytex Energy Corp. (BTE), Birchcliff Energy Ltd. (BIREF), Crescent Point Energy Corp. (CPG), Canadian Natural Resources Limited (CNQ), and Aroway Energy (ARWJF) in the space.