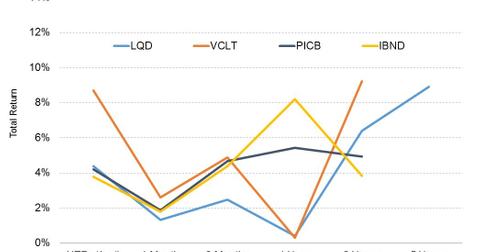 International and domestic corporate bond funds: The returns
By Phalguni Soni

Updated
Returns comparison
In the last two sections, we compared the risks and returns inherent in domestic and international bond funds (EMB) that invest in government debt securities.
In this part of the series, we will discuss and compare funds investing primarily in debt issued by domestic and overseas corporates. For the purpose of comparisons, we will be considering the following ETFs:
Article continues below advertisement
ETFs invested primarily in the U.S. corporate bond sector appear to have performed better than their overseas counterparts in 2014 and over the past three years. However, ETFs investing primarily in developed market corporate bonds have performed better over the past one year. As can be seen from the graph above, VCLT has posted the highest returns over the last three years (9.2%) and also YTD (8.7%), amongst all the ETFs considered.
VCLT also has a much higher effective duration (13.5 years, as of March 31, 2014) compared to the other ETFs which range from 5–7.8, which has helped performance. Bonds (and in turn, the ETFs that invest in them) with higher durations tend to perform better during periods of falling rates, as bond prices move inversely to interest rates. Interest rates have fallen in 2014 as well as over the past three years, on a net basis. Yields on debt rated AAA by Moody's, have fallen by 42 basis points this year and 83 basis points over the past three years. Interest rates, however, have risen over the past one year, which is why VCLT returns have been lower for the past year.
For more on duration and how it affects your fixed income portfolio, read Interest rate risk: Measure and avoid the pitfalls of duration.
Interest rates in the Europe have fallen over the past year, while they have risen in the U.S. This accounts for the relatively better performance of PICB and IBND over the past 12 months, as they have ~80% and ~75% of their fund holdings in European assets, respectively.
In the next section, we will discuss the risk aspects of the funds considered above.