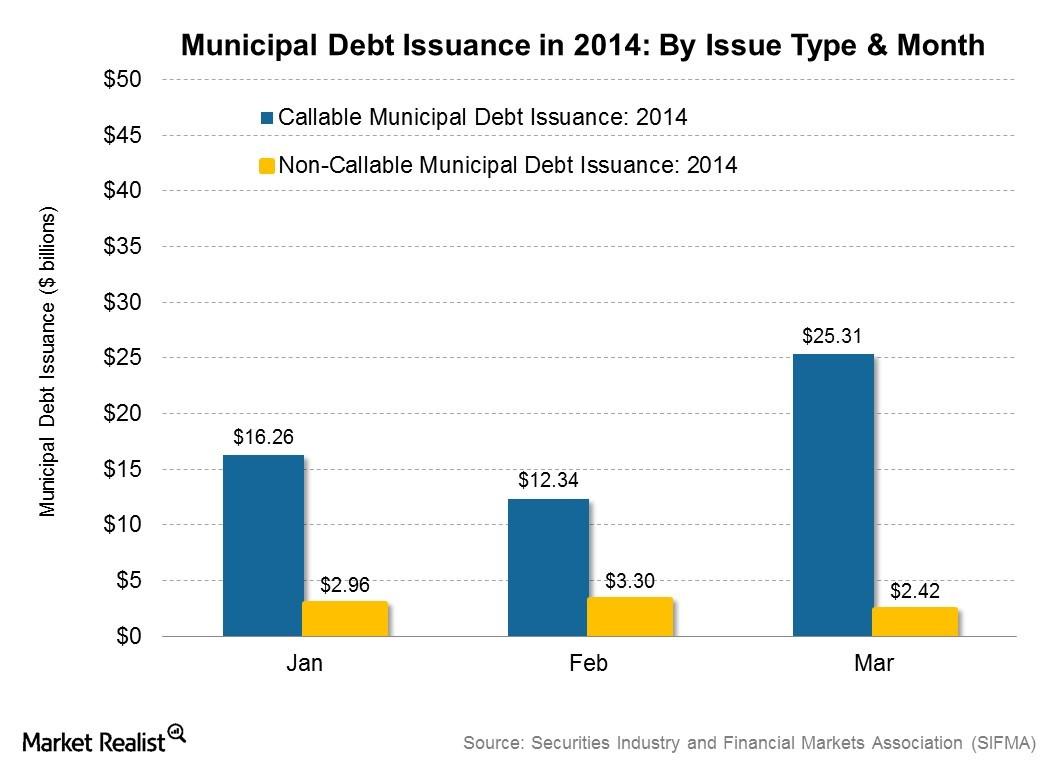 Must-know: Is the primary market in VRDO issuance set to surge?
By Phalguni Soni

Nov. 26 2019, Updated 2:27 p.m. ET
Issuance in terms of call features and interest rates
In the last section, we discussed municipal bond (MUB) issuance in Q1 2014 in terms of state-wide issuance trends. In this section, we will discuss issuance in terms of call features and interest rates.
Callable municipal debt issuance in Q1 2014 declined ~27% in Q1 2014 to $53.9 billion on a year-over-year basis. The volume of non-callable muni debt issues declined ~20% to $8.7 billion over the same period.
Article continues below advertisement
This follows the general trend this year of lower municipal debt issuance in the primary market, which is down by almost 26% to $62.6 billion, compared to the same period last year. The trend has been lower this year mainly due to higher interest rates this year. Poor weather conditions in the first two months of the year have not helped issuance levels either. The ratio of callable issue volumes to total volumes increased slightly to ~86% in Q1 2014 from ~85% in 2013 and 84% over the period 1996-2013.
In terms of coupon, fixed rate issues (TFI) dominated, with ~96% of the total debt offering in Q1 2014 (excluding private placements). This percentage is up from about 93% recorded in the first quarter of 2013. The average ratio for fixed rate (MLN) issuance as a percentage of the total issuance was ~91% in 2013. Issuers have taken advantage of the declining interest rate environment in the first quarter to lower their interest burden. Yields on AAA-rated GO debt have declined by 34 basis points for 20-year maturities between January 1, 2013, and January 1, 2014, the most amongst all AAA-rated debt maturities.
Variable Rate Demand Obligations (or VRDO) deals (including both long and short) were down at ~$1.3 billion down from $1.4 billion in the comparable quarter last year. Although variable rate issuance has dropped slightly the last quarter, investors are likely to prefer issuance in this category in the future, once the Fed embarks on the rate tightening cycle for the Fed funds rate (expected to be sometime between Q2-Q4 2015). All else equal, this would raise rates across the bond quality and maturity spectrum.
To learn more about the Fed's current policy with regard to the base rate, read Janet Yellen on why the Fed changed its forward guidance policies.
Popular ETFs investing in VRDOs include The Invesco PowerShares VRDO Tax Free Weekly Portfolio (PVI) and the State Street SPDR S&P VRDO Municipal Bond ETF (VRD).
Read Part 9 to know about the other key highlights in the municipal debt market in Q1 2014.