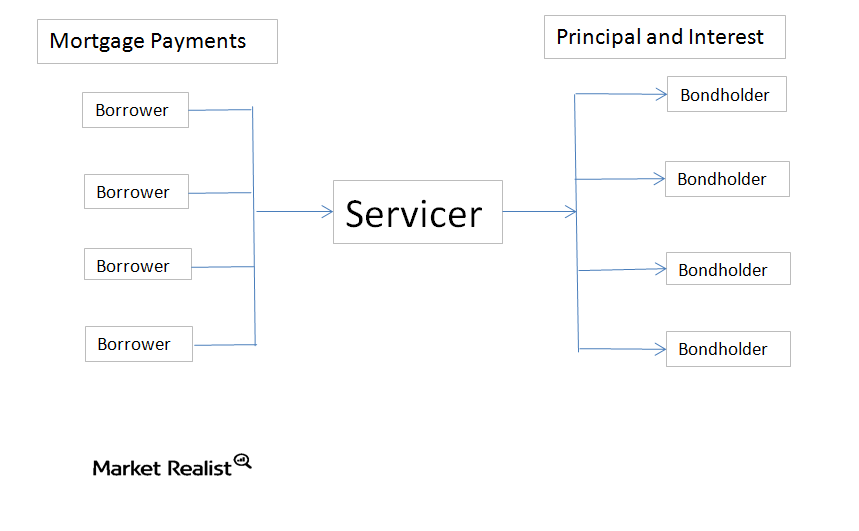 The must-know basics of mortgage servicing rights and servicers
By Brent Nyitray, CFA, MBA

Apr. 9 2014, Published 11:50 a.m. ET
What is a servicer?
The servicer is the entity that acts as the liaison between the borrower and the ultimate lender (usually an investor who holds mortgage-backed securities). The servicer will manage the escrow accounts, send out the bills, ensure that principal and interest payments are made on securities, and handle the process when a borrower becomes delinquent. If the borrower becomes seriously delinquent, the servicer will handle loan modification or foreclosure. Ultimately, the servicer works for the investor, not the borrower, and is paid a servicing fee, which is a spread on the principal value of the loan.
Mortgage servicing rights are one of the few financial assets that increase in value as rates rise
Article continues below advertisement
Most mortgage REITs are exposed to changes in interest rates, and are usually long-duration, which means that the value of their portfolio decreases in value as interest rates rise. Good examples of these types of REITs would be Annaly (NLY), American Capital Agency (AGNC), MFA Financial (MFA), Hatteras (HTS), or Capstead (CMO). However, there are some REITs that not only purchase mortgage-backed securities, but also purchase mortgage servicing rights. Examples of these companies would be Nationstar (NSM) and Ocwen (OCN). Mortgage servicing rights are an interesting type of financial asset in that their value increases as interest rates increase. This makes them a good hedge for investors who have a portfolio of mortgage REITs that are declining as interest rates rise. You can find a more in-depth discussion of mortgage servicing rights here.
Mortgage servicing rights are residual assets from mortgage origination
Mortgage servicing rights (or MSRs) are residual assets that mortgage originators usually retain after selling a mortgage into a mortgage-backed security. While a few companies specialize in servicing—particularly Ocwen (OCN) and Nationstar (NSM)—MSRs are usually held on banks' balance sheets. MSRs are interesting assets that can hedge interest rate risk.