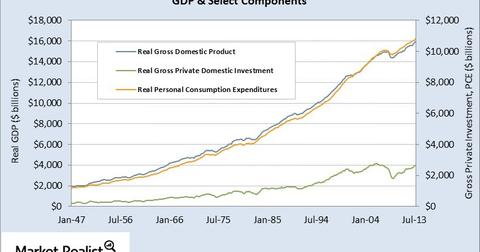 Homer Jones: The guru of the Federal Reserve's transparency efforts
By Phalguni Soni

Updated
Homer Jones
James Bullard has been President and Chief Executive Officer of the Federal Reserve Bank of St. Louis since 2008. He believes the Fed ought to adopt a "state-contingent policy," which is a policy that is adjusted based on the state of the economy, and to give greater consideration to headline inflation than core inflation when making monetary policy decisions. He has supported quantitative easing in the wake of the financial crisis and has warned that the U.S. may fall into a Japanese-style deflationary monetary trap.
Article continues below advertisement
Dr. Bullard recently made the opening remarks at the 25th Edition of the Homer Jones Memorial Lecture, an annual event. The lecture was held at the Federal Reserve Bank of St. Louis on April 2, 2014. The topic for the lecture was "Liquidity: Meaning, Measurement, Management," by Robert E. Lucas, Jr., Nobel Laureate (1995) and the John Dewey Distinguished Service Professor in Economics at the University of Chicago.
Dr. Bullard began his opening address by saying that this was, in essence, a triple celebration:
The city of St. Louis was celebrating its 250th anniversary.
The U.S. Federal Reserve is celebrating its 100th anniversary.
This was the 25th year in which the Homer Jones Memorial Lecture was being held, since Homer Jones' death in 1986.
Dr. Bullard then gave a summary of Homer Jones and his achievements. Homer Jones worked at the St. Louis Fed since 1958 and is known for his contribution towards the bank's development as a leader in monetary research and statistics. He attributed the St. Louis Fed's success in developing bank products like FRED, Mobile FRED, ALFRED, GeoFRED, CASSIDI, FRASER, and IDEAS to Homer Jones' vision. "Homer was, in a sense, the original guru of Federal Reserve transparency," said Dr. Bullard.
Article continues below advertisement
The graph above is an illustration of the type of macroeconomic data that can be downloaded at the Federal Reserve Economic Data (or FRED) database. FRED is an online database created and maintained by the Research Department of the Federal Reserve Bank of St. Louis. FRED consists of economic data time series from national, international, public, and private sources and combines data with a powerful mix of tools that help the user understand, interact with, display, and disseminate the data.
What is FRED?
FRED data is an extremely popular data source for macroeconomic analysis for both the financial institutions like S&P 100 Index (OEF) components, American Express (AXP) and Wells Fargo Company (WFC), as well as non-financial institutions like Coca Cola (KO) due to a wide range of macroeconomic data coverage at the national level, provided at the website of the St. Louis Fed. Both equity (OEF) and fixed income (BND) investors can benefit from the usage of the FRED database.
Part 2 of this series discusses what Dr. Bullard said in his opening address.