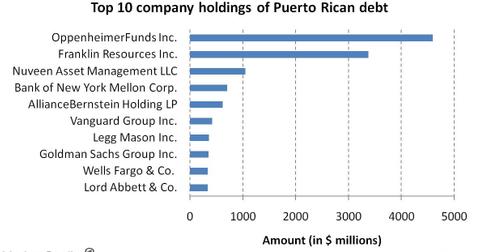 Will the GO bonds allow Puerto Rico to be free of its worries?
By Surbhi Jain

Updated
The chart below shows the top ten companies holding Puerto Rican debt, including the OppenheimerFunds, Inc., Goldman Sachs Group, Inc. (GS), and Wells Fargo & Company (WFC), among others.
Puerto Rico is facing a situation of financial distress. Its general obligation (or GO) bonds have been recently downgraded to junk level by rating agency S&P.
Amidst all this panic in the market concerning whether the commonwealth is heading toward a default, or how will the tax haven come out of its financial woes, the government of Puerto Rico, decides to issue new tax-free GO bonds to the tune of $3 billion. The deal will be one of the largest tax-exempt deals ever, and the first by Puerto Rico since last summer.
Article continues below advertisement
The current government, led by Governor Alejandro Garcia Padilla, intends to raise cash to cover its deficit and refinance debt through this deal. Surmounting fiscal deficit and public debt of $70 billion are the two things that have primarily led Puerto Rico to its current distressed state. The GO bond issue should be able to buy the Puerto Rican government at least two more years to balance its budget and set economic reforms. Rating agency, Fitch has assigned a "BB" rating to the planned issue, citing weakness in the country's economy, high debt and, unfunded pensions.
The new bonds, which are expected to have a final maturity in 2035, and an expected average life of nearly 17 years, will likely carry a yield at or near 9%. That lofty rate, compared with yields of 4% to 5% on high-quality long-term municipal bonds, reflects the effect of the recent downgrade to junk status.
Puerto Rico is counting on hedge funds and other large institutions to buy the bonds, as they are more accustomed to evaluating debt with low credit ratings. There could be demand from high yield seekers, who assess the Puerto Rican debt as attractive relative to junk-grade corporate bonds. The demand for the new bonds will also likely be strong as the market is thirsting for yield wherever it can be found.
The deal, however, will not be able to address the economic problems affecting the territory, as along with funds coming in, it will also add considerably to Puerto Rico's interest payment obligations.
One can assess the impact of this new issue on the market for Puerto Rican debt, by tracking either the PowerShares Insured New York Municipal Bond ETF (PZT), or the PowerShares Insured California Municipal Bond ETF (PWZ) as these ETFs have the largest holdings at 17% and 14%, respectively. Van Eck's VanEck Vectors Puerto Rico Municipal Index ETF (HYD) could also be relevant in this regard.