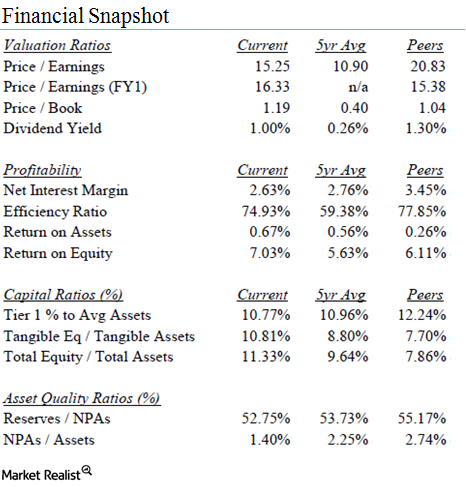 Must-know: Why First Internet Bancorp has a promising future
By CUSH Capital

Mar. 5 2014, Published 10:38 a.m. ET
Thesis overview
First Internet Bancorp (INBK) is a provider of online retail and business banking services nationwide. The company is the parent company of First Internet Bank of Indiana. First Internet Bank of Indiana is the first state-chartered, FDIC-insured institution to operate solely through the Internet and it has customers in 50 states. First Internet Bank of Indiana offers personal and business banking services. The company's personal banking services include checking, debit, savings and money markets, and credit cards. Investment services include certificate of deposit (CDs), individual retirement accounts, and Coverdell education saving accounts. The company also provides loan services, which include mortgages, home equity loans, installment loans, and private student loans. Business banking includes checking, savings and money markets, CDs, and commercial lending.
Article continues below advertisement
We missed out on a five-bagger three years ago when we passed on INBK's closest competitor (BOFI). The companies are "eerily similar," to use the words of CEO David Becker. If INBK execute,s we think there is every likelihood they will surpass their goal of $1 billion in assets by 2015. Margin expansion and multiple expansion will compound investor returns. Downside risk is limited, as INBK trades at only a small premium to book value. Overall, the future of the company looks stable and promising.
The Market Realist Take
In 4Q 2013, First Internet Bancorp saw its profit decline to $666,000 or $0.19 per share, compared to $1.55 million or $0.54 per share in the comparable quarter last year. The company completed a public offering of common stock during the fourth quarter, which provided $29.1 million of new capital. But the 58% year-over-year increase in common shares outstanding impacted its earnings per share ratio. The year-over-year net loans receivable increased 41% due to successful efforts in expanding loan origination capabilities and diversifying revenue streams.
Article continues below advertisement
The company said that as anticipated, the industry-wide slowing of residential mortgage refinancing activity affected its year-over-year net income. Therefore, it has continued building a nationwide franchise and diversifying to its revenue streams. The company benefited from a nationwide residential mortgage refinancing boom in 2012 and the first half of 2013 and will continue the efforts to increase its presence in home purchase financing. The bank said it's well positioned to compete effectively in the mortgage business with its web-based infrastructure and experienced team. Its commercial teams bring versatility to the lending and deposit-gathering capabilities, and thus to its income opportunities going forward. In this niche segment, INBK's much larger but closest peer, Bank of the Internet Holdings (BOFI), too saw a decline in net interest income in its latest 2Q 2014 results, primarily as a result of industry-wide decline in mortgage banking. The company mitigated the decline by selling structured settlements and increasing other fees.
An August 2013 survey by the Pew Research Center's Pew Internet & American Life Project found that 51% of U.S. adults, or 61% of Internet users, bank online. The survey reported that 32% of U.S. adults, or 35% of cellphone owners, bank using their mobile phones. Both types of digital banking are on the rise. In 2010, 46% of U.S. adults, or 58% of Internet users, had said they bank online. The shift from traditional banking to direct-to-consumer Internet banking is on the rise, and First Internet Bancorp is poised to benefit from this trend. The stock is up almost 55% since January, 2013.