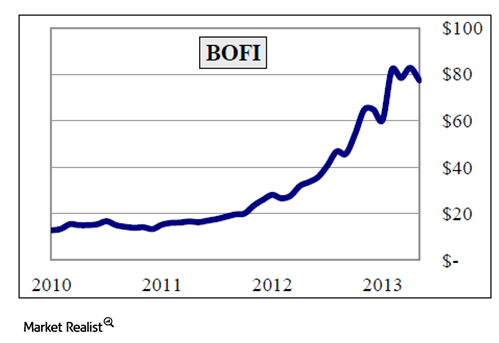 Why First Internet Bancorp is an attractive investment opportunity
By CUSH Capital

Dec. 4 2020, Updated 10:53 a.m. ET
Investment thesis
Three years ago, we passed on an opportunity to invest in Bank of the Internet (BOFI), a small but fast-growing Internet-only bank with a low-cost, scalable platform that allows for industry leading efficiency ratios. At the time, the bank had just completed a secondary offering positioning the bank to dramatically grow its loan portfolio. Moreover, a close colleague and member of our local investors club with 30-plus years of banking experience had recently visited the company and returned with a very favorable report on the management team and their strategy. We followed this up with our own due diligence and were similarly impressed with what we saw. We were hopeful to have an opportunity to buy in for less than book value, but never quite got the chance. Ever since, it's been nothing but pain and anguish watching this opportunity run away from us. Our thumb-sucking caused us to miss out on what turned into a five-bagger!
Article continues below advertisement
Luckily, Mr. Market has offered us a mulligan. We jumped at the chance for a do-over when the same colleague brought INBK to our attention: another fast-growing Internet bank whose story has yet to be discovered. They similarly completed a secondary offering in the fourth quarter of 2013 and will be deploying the capital to grow their loan portfolio, which should in turn serve as a catalyst for the stock.
To better understand the opportunity that First Internet Bank (INBK) is positioned to capitalize on, investors can whet their appetite with some recent comments from The Motley Fool's Hidden Gems newsletter (paraphrased):
Internet banking is a game-changer, shaking up one of the most hated industries in the country.
Americans are fed up with commercial banks.
Savings account rates are at near-historic lows, while banks are charging more fees than ever.
The dreaded ATM fees, remote deposit fees, and even paper account statement fees are all now a growing part of the income strategy for most banks.
Yes, you read that right. You're probably getting charged this month for the bank to send you a paper version of your own billing statement.
In fact, what many Americans don't know is that nearly 33% of bank income is now made up of "non-interest income"—or penalty-fee income—a number almost double what it was back in1970.
People are waking up to the fact that they don't need traditional banks anymore and they're moving; not just to online banking, which almost every bank offers, but to Internet-only banking, with no need for a branch at all.
Every time a brick-and-mortar bank executes a transaction, it costs roughly seven times more than the same transaction done through an ATM or mobile device.
Internet banks put that cash directly back in your pocket through vastly increased interest rates on your savings accounts.
With 4% average annual decline in branch traffic over the past 16 years, Internet banking is positioned for tremendous growth.
Article continues below advertisement
Given the many parallels between INBK and BOFI, we asked CEO David Becker if they use BOFI as a template for business growth. While he did not admit to using it as a template, he did note how eerily similar the two companies are overall, which is very positive given BOFI's success. He touted INBK's recent growth and pointed to last year's NASDAQ listing and subsequent secondary offering as catalysts that would help the company achieve its lofty financial goals—specifically $1 billion in assets by 2015. When we asked Mr. Becker about this goal, he replied:
"I'll tell you my 30-year entrepreneurial history is under-promise, over-deliver… If we can find the right merger partner and opportunity to bring that talent base in, use our technologies and national marketing skills to launch a national platform, I think we can very easily blow through that $1 billion mark."
We believe they are positioned to do it, thus creating an 80%-plus total return opportunity as INBK grows earnings and investors benefit from margin expansion. Moreover, the downside is limited, as the current price represents only a small premium to tangible book value (TBV = $19.38 versus current price of $23.00).
The Market Realist Take
Article continues below advertisement
The company last year expanded its operations to a new location in Fishers, Indiana. Unlike traditional banks, First Internet Bank said it does not maintain a costly branch network to serve its customers. While it remains committed to its efficient and highly scalable operating model with minimal reliance on brick and mortar facilities, supporting current and future growth requires investments in talented people and critical facilities.
For 4Q 2013, net interest income surged 21%to $4.96 million from $4.09 million in the year-ago period, while total non-interest income for the latest quarter was $1.17 million, compared to $3.81 million last year. The increase reflected greater revenue from loans—commercial as well as residential mortgage—and a 5% decrease in interest expense. The company said its expanding loan portfolio generated increased net interest income, which was up 10% in 2013. This partially offset a decrease in non-interest income caused by a nationwide slowing in mortgage refinancing activity. Similarly, in 3Q ended September 30, 2013, net interest income was $4.36 million, up 13% from $3.86 million in third quarter 2012.
"We have taken measured steps to grow the balance sheet in ways that will yield a positive outcome in net interest income in future periods," CEO David Becker said. "Our significant loan growth in the third quarter will lead to expanded interest income, while continued deposit repricing will have a favorable impact on interest expense."