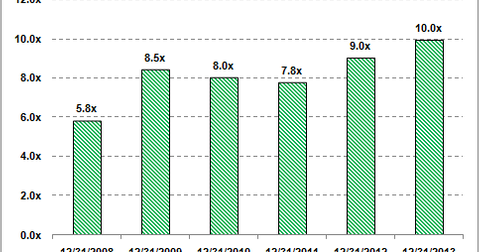 Bridgewater Associates buys HPQ, RL, and GE and sells TSO, BEN, and CTSH—13F Flash C
By Samantha Nielson

Updated
Bridgewater Associates is an investment management firm founded by Ray Dalio in 1975 and based in Westport, Connecticut. It manages approximately $150 billion in global investments for a wide array of institutional clients, including foreign governments and central banks, corporate and public pension funds, university endowments, and charitable foundations. It's a pioneer in risk budgeting and the separation of alpha and beta, managing portable alpha/global tactical asset allocation (GTAA), hedge fund, optimal beta/risk parity, currency overlay, global fixed income, and inflation-indexed bond mandates.
Abbreviated financial summaries and metrics for these securities are included below. Detailed analysis and recommendations require a subscription (more information at the bottom of the article).
Bridgewater Associates started new positions in Hewlett-Packard Co. (HPQ), Ralph Lauren Corp. (RL), and General Electric Co. (GE) and sold Tesoro Corp. (TSO), Franklin Resources Inc. (BEN), and Cognizant Tech Solutions (CTSH).
Why buy General Electric Co. (GE)?
Article continues below advertisement
General Electric saw a spike in its share price post-earnings, although its 3Q 2013 operating earnings were down 3% to $3.7 billion, or $0.36 per share, compared to 3Q 2012. Earnings beat Bloomberg analyst estimates of $0.35 per share. Revenues were $35.7 billion for the quarter, down 1% from the same period last year, driven by lower revenues in GE Capital due to planned asset reductions and a negative FX impact of $132 million. However, its industrial segment profit was up 11%, with strong growth in six of seven industrial businesses. Total segment profit grew 12%, while industrial margins grew 120 basis points in the quarter, and it's on track for planned margin expansion of 70 basis points for the year. Orders for the quarter rose 19%, to $25.7 billion. GE's backlog of equipment and services at the end of the quarter was its highest ever, at $229 billion, up $6 billion from the second quarter. It expects its industrial earnings to expand by double digits in the second half and it's on track for solid growth in the year. It expects to see earnings growth accelerate in the fourth quarter with more volume and lower costs and with a large backlog in improving margins. Its Power & Water segment had a solid performance, with orders of $5.9 billion up 19% in 3Q 2013, and it expects the segment to be a key contributor going forward in the fourth quarter and into 2014.
On November 15, the company confirmed plans to exit its North American retail business via an IPO. It plans to sell up to 20% of the business via the IPO in 2014, and the remaining shares will be distributed to GE shareholders in a tax-free transaction. The company will continue to focus its finance business on the core commercial lending activity. The move supports GE's plans to trim GE Capital and concentrate on its industrial businesses, which comprise 55% of its earnings currently.
Bridgewater Associates founder Ray Dalio received a BA from Long Island University and an MBA from Harvard Business School. He founded Bridgewater in 1975 in his New York City brownstone apartment. At the time, he actively traded commodities, currencies, and credit markets. His initial business was providing risk consulting to corporate clients as well as offering a daily written market commentary titled "Bridgewater Daily Observations" that's still produced. Bridgewater's competitive edge was creative and quality analysis. According to Dalio, Bridgewater Associates is a "global macro firm." It uses "quantitative" investment methods to identify new investments while avoiding unrealistic historical models. Its goal is to structure portfolios with uncorrelated investment returns based on risk allocations rather than asset allocations. In 1989, it launched its flagship fund, Pure Alpha, a hedge fund/GTAA/portable alpha strategy. In 1996, it launched a second fund, All Weather, a diversified beta strategy/risk parity portfolio.