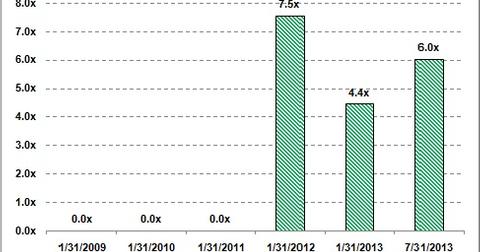 Lone Pine Capital starts new positions in BIDU, MA, DVA, P, Sells ISRG, RL – 13F Flash (D)
By Samantha Nielson

Updated
Lone Pine Capital LLC, based in Greenwich, Connecticut, was founded in 1997 by Stephen Mandel and is one of the largest equity-focused hedge funds in the United States. It is estimated to have $28.3 billion of assets under management.
In Q3 2013, it started new positions in Baidu Inc. (BIDU), MasterCard Inc. (MA), Davita Healthcare Partners (DVA), and Pandora Media (P) and sold Intuitive Surgical Inc. (ISRG) and Ralph Lauren Corp. (RL).
Abbreviated financial summaries and metrics for these securities are included below. Detailed analysis and recommendations require a subscription (more information at the bottom of the article).
Why buy Pandora Media (P)?
Article continues below advertisement
Pandora, which is due to announce its 3Q 2014 results on November 21, has already seen analysts upgrade its price target, leading to a spike in its stock price. For 2Q 2014, the company saw robust revenue growth due to strong momentum in its mobile business and also increases in advertising revenue. Total listener hours grew to 3.88 billion for the quarter—up 18% compared to the previous year's quarter. It said in its 2Q 2014 earnings call that by eliminating the blanket 40-hour-per-month limit on free mobile listening effective September 1 and controlling costs, it expects to continue to both optimize the cost structure of the business and further monetization progress. The company reported a 9% rise in listener hours in October, when it saw increasing competition from the launch of Apple's iTunes Radio. But active listeners declined to 70.9 million at the end of October 2013 from the 72.7 million active listeners reported in September. The company is also facing competition from Apple (AAPL), SIRI (SIRI), Google (GOOG), and Microsoft (MSFT), which have launched similar radio services.
Why sell Intuitive Surgical Inc. (ISRG)?
The stock price of Intuitive Surgical declined after it reported disappointing results in 3Q 2013. Its revenue was down approximately 7%, to  $499 million, compared to $538 million for 3Q 2012. The demand for the company's flagship product, da Vinci Surgical Systems, seems to be declining. Da Vinci Surgical System is a sophisticated robotic platform designed to expand the surgeon's capabilities and offer a state-of-the-art minimally invasive option for major surgery. The company in its 3Q earnings call attributed the impact of the Affordable Care Act and weaker overall gynecological admissions, which is pressuring surgical volume as the main reason for the fall in sales. However, there seem to be concerns about the safety of this product and the way it was marketed. The company said in its 10K filing that it is a defendant in about 50 individual product liability lawsuits filed in various state and federal courts by plaintiffs who allege they underwent surgical procedures that used the da Vinci Surgical System and sustained a variety of personal injuries and, in some cases, death as a result. Besides, the FDA issued a warning letter relating to reported field corrections, information to be included on reports of field corrections, written procedures for changes to product labeling, and design input documentation.
Lone Pine Capital founder Stephen Mandel graduated from Dartmouth College in 1978 and received his MBA from Harvard Business School in 1982. He has worked as an analyst and consultant at several major firms, from Tiger Management to Goldman Sachs. He uses a bottom-up, fundamental approach for selecting stocks that focuses on the fundamentals of the company against macroeconomic events and indicators.