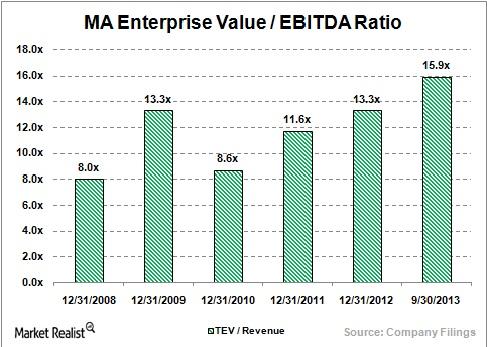 Lone Pine Capital starts new positions in BIDU, MA, DVA, P, Sells ISRG, RL – 13F Flash (B)
By Samantha Nielson

Nov. 2 2019, Updated 2:32 p.m. ET
Lone Pine Capital LLC, based in Greenwich, Connecticut, was founded in 1997 by Stephen Mandel and is one of the largest equity-focused hedge funds in the United States. It is estimated to have $28.3 billion of assets under management.
In Q3 2013, it started new positions in Baidu Inc. (BIDU), MasterCard Inc. (MA), Davita Healthcare Partners (DVA), and Pandora Media (P) and sold Intuitive Surgical Inc. (ISRG) and Ralph Lauren Corp. (RL).
Abbreviated financial summaries and metrics for these securities are included below. Detailed analysis and recommendations require a subscription (more information at the bottom of the article).
Why buy Mastercard?
Article continues below advertisement
Mastercard reported net income of $879 million, up 14%, and earnings per diluted share of $7.27, up 18%, for 3Q 2013 as compared to the year-ago period. Net revenue for the third quarter of 2013 was $2.2 billion, a 16% increase versus the same period in 2012. The company said these results were driven by solid volume and transaction growth in every region around the world. EPS growth was 17%, benefiting from its share repurchase program. The company saw an increase in its U.S. business in the third quarter where volume grew 9%, up from last quarter, driven by improvements in consumer credit. In Europe, an improvement in business sentiment, continued secular shift and the company's business wilns have driven have driven third quarter volume growth up 17%, up from 14% last quarter, with Poland, Russia, Sweden as some of the key contributors to those numbers. In Asia, consumer spending in the third quarter increased in key markets. Consumer confidence levels have remained by and large steady across the region, but business sentiment continues to be mixed, because of lingering concerns about the global economy. Given its continued stronger than expected net revenue growth and the level of rebates and incentives it expects for the balance of the year, it believes that second half net revenue growth will be slightly better than the 12% growth rate in the first half. The economic recovery in Europe and improvement in consumer spending has proven beneficial to Mastercard, whose stock is up almost 53% YTD and has outpaced its rival VISA.
Lone Pine Capital founder Stephen Mandel graduated from Dartmouth College in 1978 and received his MBA from Harvard Business School in 1982. He has worked as an analyst and consultant at several major firms, from Tiger Management to Goldman Sachs. He uses a bottom-up, fundamental approach for selecting stocks that focuses on the fundamentals of the company against macroeconomic events and indicators.