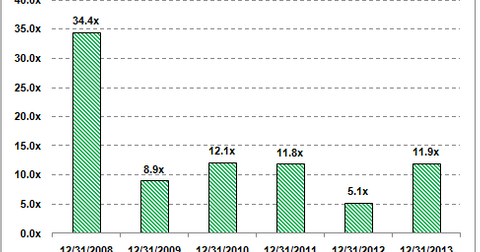 AQR Capital Management starts new positions in FOXA, MAKO and sells ARO, GHL, PBF, EBIX—13F Flash B
By Samantha Nielson

Updated
AQR Capital Management is an investment management firm founded in 1998 by former Goldman Sachs portfolio manager Clifford Asness along with partners David Kabiller, John Liew, and Robert Krail. According to its website, it has over $90.2 billion in assets under management (as of September 30, 2013) for institutional investors, including pensions, insurance companies, endowments, foundations, and sovereign wealth funds, as well as registered investment advisors. The company is based in Greenwich, Connecticut.
Abbreviated financial summaries and metrics for these securities are included below. Detailed analysis and recommendations require a subscription (more information at the bottom of the article).
The firm started new positions in Twenty-First Century Fox (FOXA) and Mako Surgical Corp (MAKO) and sold positions in Aeropostale Inc. (ARO), Greenhill & Co. Inc. (GHL), PBF Energy Inc. (PBF), and Ebix Inc. (EBIX).
Why buy MAKO Surgical Corp.?
Article continues below advertisement
On September 25, 2013, MAKO Surgical Corp. (MAKO) announced a definitive agreement with medical device maker Stryker Corporation (SYK), by which Stryker will acquire all of the outstanding shares of MAKO for $30.00 per share in cash, for an aggregate purchase price of approximately $1.65 billion. Stryker said in its latest earnings call that by acquiring Mako, it will unlock the long-term potential for robotic-assisted surgery, which will further define it as a leader in orthopedics.
In its latest quarterly results, the company saw a revenue decrease of 22% to $22.8 million compared to $29.2 million in the 3Q 2012. The decrease in revenue was primarily attributable to fewer RIO systems recognized in the third quarter of 2013. This was partially offset by a 35% increase in the number of procedures performed in the third quarter of 2012 and an increase in service revenue. Gross profit was down to $16.3 million, compared to a gross profit of $17.2 million in the same period in 2012. Gross margin for the third quarter of 2013 was 72%, consisting of a 74% margin on procedure revenue, a 34% margin on RIO system revenue, and an 86% margin on service revenue. System gross margin for the third quarter of 2013 was negatively impacted by fewer RIO systems sold, which resulted in higher indirect costs per system.
The company expects the closing of the proposed merger with Stryker prior to the end of 2013. So it withdrew its previously issued 2013 guidance. Also, it didn't hold a conference call to discuss its third quarter results.
Why sell Aeropostale Inc. (ARO)?
Article continues below advertisement
Aeropostale has been the target of takeover rumours in the recent past on the back of disappointing sales. The company reported a decline in sales in its 2Q 2013 earnings in August 2013. Net sales decreased 6% to $454.0 million, from $485.3 million last year. It reported a net loss for the second quarter of 2013 of $33.7 million, or $0.43 per diluted share. The company said its business was pressured by a challenging teen retail environment with weak traffic trends and high levels of promotional activity. In September, Hummingbird LLC, indirectly owned by Sycamore Funds, said in a regulatory filing that it had bought 6.25 million shares in Aeropostale, equal to 7.96% stake.
Recently, activist shareholder Crescendo Partners urged the Aeropostale board to immediately commence a broad sale process for the entire company. In a letter to the board, Crescendo said it believes numerous potential buyers will be interested in acquiring Aeropostale because of its strong brand name and compelling valuation. It added that with the stock down 63% in the past three years, it believes that stockholders have suffered enough under the current board and are entitled to a process that will maximize stockholder value.
Article continues below advertisement
U.S. teen retailers like Abercrombie & Fitch (ANF), American Eagle Outfitters (AEO), and Aeropostale (ARO) have been struggling due to changing shopping habits of teens, attributed to low spending in a difficult economy, high teen unemployment, and teens spending more on electronics than clothes. Also, competition from cheaper retailers like H&M and Forever 21 is affecting the business of these traditional teen retailers.
AQR manages a wide array of investments, spanning from aggressive high-volatility market-neutral hedge funds to benchmark-driven traditional equity funds. It makes investment decisions across all funds using a series of global asset allocation, arbitrage, and security selection models and implements them using proprietary trading and risk-management systems. Both the traditional benchmark and market-neutral strategies are managed by the same portfolio teams and driven by the same underlying research. The firm began with a quantitative equity hedge fund and today offers a variety of quantitatively driven hedge fund and traditional investment vehicles to both institutional clients and financial advisors.