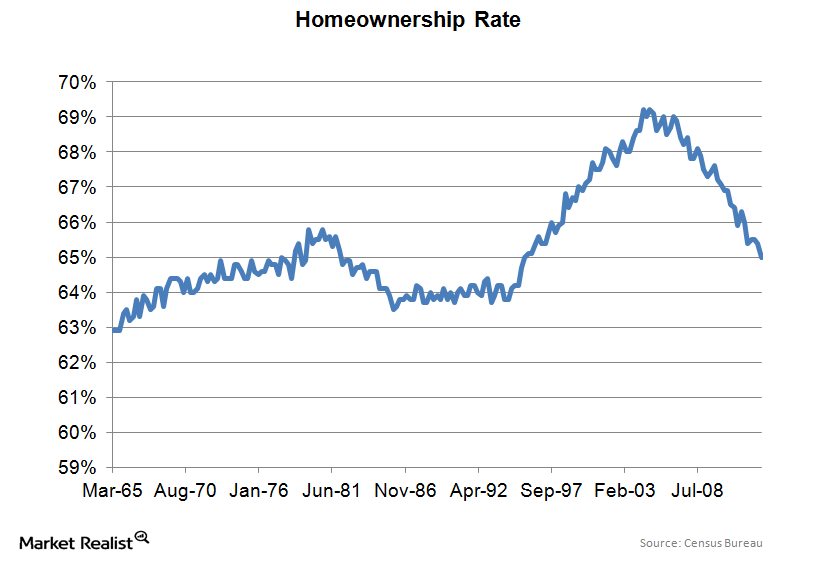 The role of Fannie Mae and Freddie Mac during the housing bubble
Fannie Mae in the real estate bubble
During the real estate bubble, Fannie Mae began to emphasize the use of its own balance sheet over its securitization function. As a government-sponsored entity, the GSEs were subject to government mandates as well as their fiduciary duty to maximize shareholder value. One big government mandate is targeting lending at the behest of HUD (the Department of Housing and Urban Development). HUD had been increasing the GSEs' underserved lending targets throughout the 1990s, which increased the homeownership rate in the United States. You can see in the chart below how much the homeownership rate increased during the bubble years.
Article continues below advertisement
At the beginning of 2000, Fannie Mae unveiled the American Dream Commitment, which was a $2 trillion commitment to lend to underserved areas and to expand credit to non-traditional profiles. Since Fannie couldn't securitize these loans, it had to place them on its balance sheet. It partnered with major lenders like Countrywide, Doral, and Bank of America and had an agreement: you originate subprime and Alt-A paper and we will commit to buy it. Basically, Fannie Mae was doing an end-around its charter. Instead of using its balance sheet as a tool to stabilize the real estate market, it was using it as a profit center. The American Dream Commitment ended up turning Fannie Mae into the biggest mortgage arbitrage hedge fund on the Street.
When the real estate market began turning south, Fannie Mae found itself in trouble as the value of its mortgage-backed security portfolio began to take credit losses. While it was able to raise capital through preferred stock issuance, the uncertainty in the financial markets, the fact that Fannie hadn't been able to release audited financial statements in years, and the realization that the real estate bubble had burst meant that Fannie couldn't raise any more capital. The government ended up taking Fannie into conservatorship, and agreed to fund any shortfalls. The government took over 79% of the equity, giving it control, but not forcing it to consolidate Fannie's debt on the U.S. balance sheet.