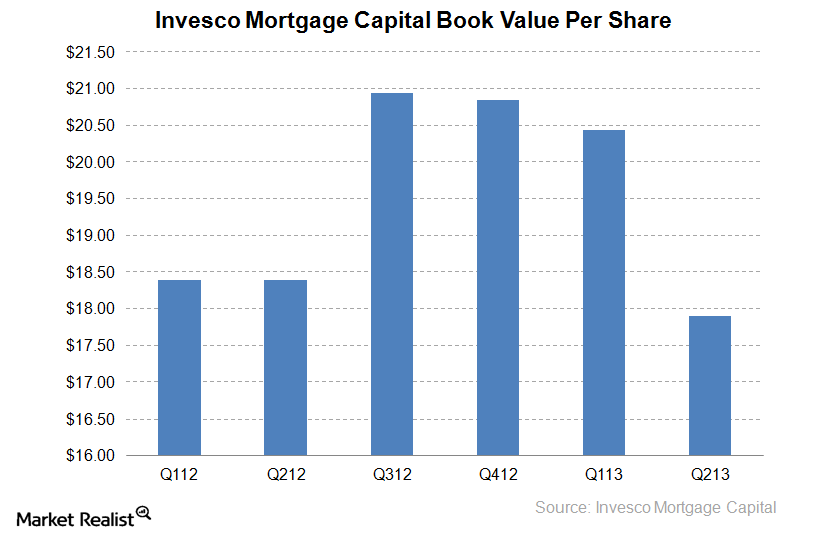 Invesco Mortgage Capital book value per share declines 12%
Invesco Mortgage Capital (IVR) is a mortgage REIT that focuses on agency and non-agency mortgage-backed securities
Invesco invests in a wide range of products, from agency residential mortgage-backed securities, to non-agency mortgage-backed paper, to commercial mortgage-backed securities and residential and commercial mortgage loans. Invesco Mortgage Capital is externally managed by Invesco (IVZ). Its portfolio is reasonably well diversified, although 30-year fixed-rate mortgage-backed securities dominate at 44% of the portfolio.
Highlights of the quarter
Article continues below advertisement
Invesco Mortgage Capital reported earnings per share of $0.59 per share—lower than the Street estimates of $0.61 per share. Book value per share declined by 12% from $20.44 per share to $17.90 per share. The company did anticipate rates increasing this year and adjusted its interest rate hedges accordingly, but it was surprised that rates rose 100 basis points in two months. Its internal forecast is for a continued weak economy.
Invesco attributed most of the decline in book value per share to credit spread widening, not interest rate risk. Spreads widened in both agency and non-agency paper. It views the increase in credit spreads as temporary, while it sees the trend in interest rates as permanent.
CEO Richard King discussed the environment on the earnings conference call: "We expect that the credit dislocation in Q2 though is not likely to persist. We find credit spreads in the mortgage space very attractive and supportive of our fair market value. What we saw in Q2 was more of a knee-jerk reaction where mutual fund managers who were surprised with outflows had to sell credit assets at quarter end. In addition, there was convexity-related selling out of our industry to reduce interest rate risk as rates increased and mortgage bonds lengthened average life. This also coincided with dealers trying to reduce assets at quarter end."
Read-across to other mortgage REITs
Invesco Mortgage Capital doesn't fit as neatly in a bucket as some of the other REITs, like American Capital Agency (AGNC) or Hatteras (HTS). This makes drawing industry-wide conclusions from its quarterly earnings difficult. King's statement does draw attention to one of the major issues that face mortgage REITs, and that issue is liquidity risk. As a general rule, the more esoteric the securities held, the more liquidity dries up in a crisis. As a matter of fact, liquidity risk is largely what dried up in Orange County back in the early '90s. Rates rose, and the county couldn't sell its inventory because there were no buyers (everyone had redemptions, and one of the biggest mortgage arbitrage hedge funds on the Street—Askin Capital Management—blew up). While all mortgage REITs face some form of liquidity risk, the non-agency REITs like Two Harbors (TWO), PennyMac (PMT), and Redwood Trust (RWT) take more of it.