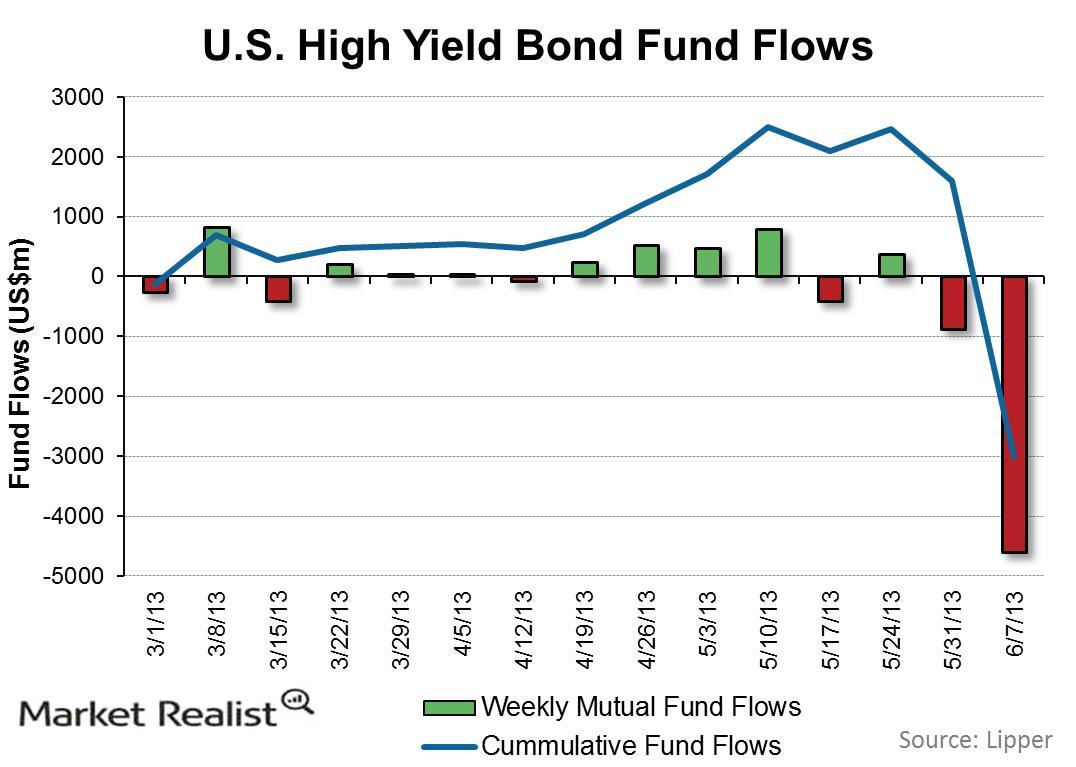 Pack your bags, the high yield party is over!
By Dale A. Norton

Nov. 20 2020, Updated 3:18 p.m. ET
The high yield market had its largest ever weekly outflow
Fund flows are strong indicators of investor confidence and offer insight into changing views within the investor community. Whether it is sharp reversals or steady flows, the weekly flows are important to understand the weight investors assign to different market events and changing conditions.
Last week, $4.6 billion were taken out of high yield funds, which is the largest flow ever recorded for a single week. The $8.75 billion the week before had signaled a strong reversal in investor confidence in the high yield market after remarks from Federal Reserve officials. The outflow this week just means many investors are pretty much finally calling it off.
Investor bullishness on the high yield bond market waned as investors started reading between the lines that a potential reduction or phasing out of quantitative easing could happen as soon as Q3 2013. Since bonds pay fixed coupons, their market value drops when general interest rates increase, since investors are better off investing elsewhere than in bonds that pay coupons below market values. Prices drop because to entice other investors to buy the bonds, they must be sold at a discount to make the yield rise to match the relative market rates.
Article continues below advertisement
Net outflow for the year
This single outflow turned the year-to-date flows negative. The net outflows are now $3 billion, versus a net inflow of $1.6 billion as of the week before. While fund flows are lagging and not much can be done after the fact, this large outflow will certainly raise eyebrows elsewhere and the herd mentality may force more funds out.
Outlook
It is true that given the massive outflows there is the possibility of a slight pull back as some investors attempt to buy an oversold market, but the problem is that the outflow follows market fundamentals. The issuance volume continues to drop and the threat of steep price drops when interest rates rise is real.
The only unknown is at what time rates will increase, though a significant delay would only happen if the economy worsens sharply. Adverse economic conditions could result in a widening of credit spreads and even rating downgrades, which would certainly hurt high yield bonds.
While some may argue that in the short-term they can ride the pull back of the market, this strategy of catching a falling knife would not be suited for most, if any, retail investors.