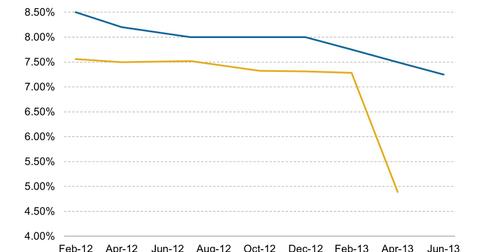 India keeps rates steady, depreciation jeopardizes receding inflation
By Dale A. Norton, ME

Updated
The Reserve Bank of India kept interest rates unchanged at their June meeting, citing lingering inflation concerns.
The Reserve Bank of India (RBI) is the country's central bank, which is in charge of setting interest rates. Just as we have seen in the United States, interest rates are market moving indicators that need to be watched closely. A drop in interest rates could have boosted the markets and brought some short-term growth into the picture. At the same time, it could have reignited inflation risks.
In its latest meeting in June, the repo rate, its key policy rate, was kept steady at 7.25%. This was in line with the Street consensus, though a few analysts were hoping for a 25bps cut. In the previous meeting, the RBI had cut its rates despite inflation risks.
Article continues below advertisement
RBI see improvement in current conditions
The RBI acknowledged that inflation has subsided and that there are a few sparks of growth. Inflation continued its downtrend, but its stability remains fragile. The RBI mentioned that growth has been quite rocky and unstable.
Areas like production of non-durable goods are indicating a slight recovery in consumer demand, and the recent Services PMI showed signs of recovery.
Nonetheless, the RBI noted that while current conditions are better, there is a chance that conditions could pullback in the near-term.
Inflation risks lingering
Inflation is finally on what seems a clear downtrend, though many outside factors can hurt this. Depreciation, subsidy cuts and commodities volatility can reverse this trend easily:
The main factor is devaluation of the currency, which has depreciated 7.6% since May 1st. A weaker currency means purchasing power is lost, which generally leads to higher inflation. A cut in interest rates would have only exacerbated the problem by further depreciating the currency as cheap money flows into the market.
The government has been trying to reduce the many subsidies it has, mainly the fuel subsidy, which has taken a toll on government finances. These and future cuts have and will translate into higher prices passed through to the consumer, resulting again in higher inflation.
And finally, India's inflation has dropped recently mainly due to lower commodity prices, which have helped reduce the price of food and fuel prices. Any whiplash on commodity prices can quickly spike inflation back up.
Outlook
It is true that India may have some very minor wins here and there with respect to recovery growth, but overall the foreign exchange risk due to a weak currency, large emerging market investor outflows and the unstable inflation risks adds too much uncertainty to the Indian market right now.
In the short-term the best approach is likely the same as the one taken by the RBI: wait and see.