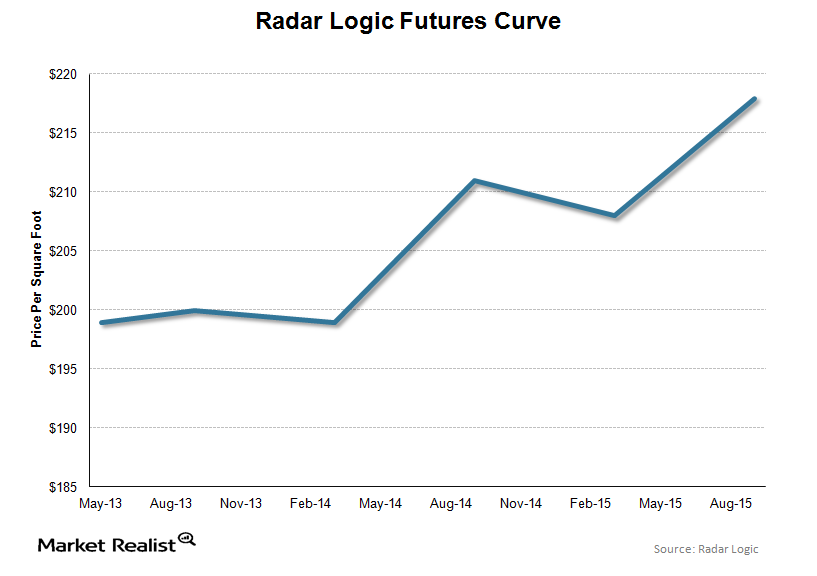 Radar Logic futures curve predicts flat real estate prices until September 2014
By Brent Nyitray, CFA, MBA

Nov. 20 2020, Updated 4:00 p.m. ET
Radar Logic futures can be used to forecast real estate prices
Most people are unaware that there is a futures market for U.S. real estate prices.  The Radar Logic futures contract launched about a year ago on the CBOE Futures Exchange. While they are not especially liquid, they do provide an insight into what the market thinks real estate prices will do in the future. Real estate futures and ETFs (there used to be a Case-Schiller ETF) seem to struggle with illiquidity. This is probably due to the fact that most of the demand is coming from hedgers who want to lay off real estate price risk. Their natural counterpart would be the real estate speculator. Most real estate speculators would rather buy a property than an futures contract or an ETF.
Article continues below advertisement
The Radar Logic Index of real estate is different than Case-Schiller, which uses a repeat sale methodology to calculate the index. This means they look at real estate transactions and compare the previous sale price with the new sale price. Radar Logic uses the whole universe of transactions to come up with a price per square foot measure. In fact, the Radar Logic index is measured in price per square foot.
The Radar Logic Futures Curve is forecasting flat prices this year followed by solid growth in the second half of 2014
The Radar Logic spot price is $199 a square foot. This is a 5% increase from the last time we looked at the Radar Logic Futures Curve. The September 2013 futures are trading at $200 a square foot, while the March 2014 futures are trading at $199 a square foot. The September 2013 contract is trading at $211 a square foot, which is 6% above current prices. Radar Logic does not make seasonal adjustments, which is why the curve has a rising sine wave shape. Prices tend to rise the most during the summer selling season and then cool off in the winter. The lack of a balanced market may explain in part why the Radar Logic futures are predicting a more modest price increase than other forecasts.
The Radar Logic index is up 13% year-over-year and up 4% month-over-month. Radar Logic had been reporting declining prices earlier this year, while the other indices, like Case-Schiller, were reporting gains. It seems that the Radar Logic algorithm has caught up with the other indices.
Implications for mortgage REITs
Mortgage REITs, like PennyMac (PMT), Redwood Trust (RWT), and Two Harbors (TWO), are highly sensitive to home price appreciation. When prices are rising, delinquencies drop, which helps servicers, like Nationstar (NSM) and Ocwen (OCN) and those who invest in non-agency (non government-guaranteed) mortgage backed securities. It also helps reduce stress on the financial system, which makes securitization easier and lowers the cost of borrowing. Finally, those REITs with large legacy portfolios of securities from the bubble years are able to stop taking mark-to market write downs and may revalue their securities upwards. Since REITs must pay out most of their earnings as dividends, higher earnings means higher cash flows to the investor.