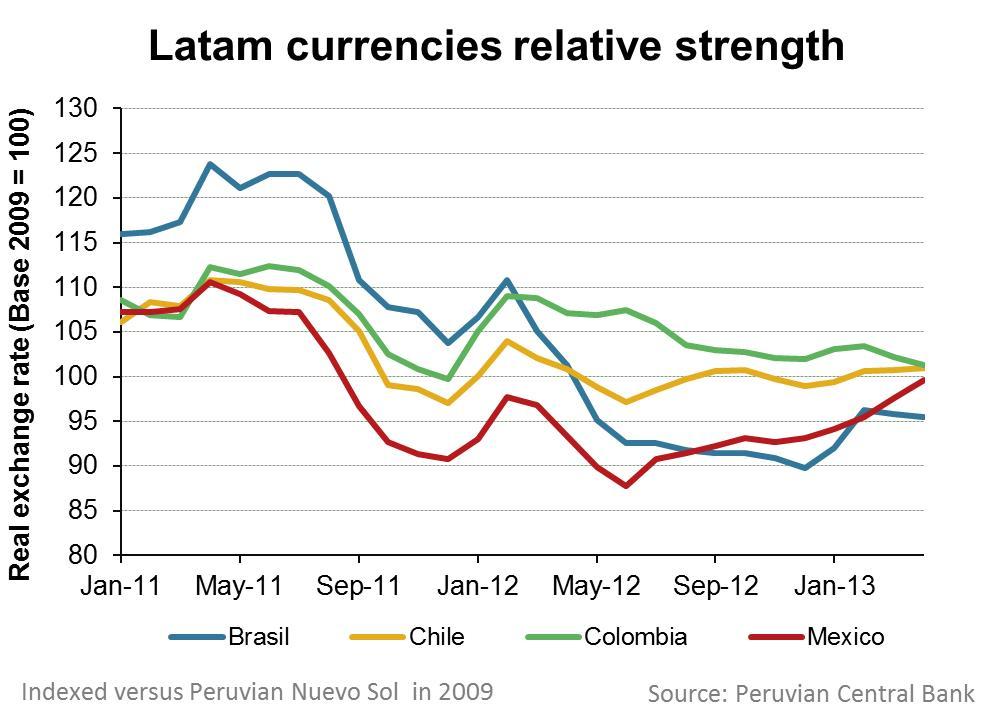 Mexican Pesos gaining strength vs. other Latam currencies
By Dale A. Norton, ME

Nov. 21 2019, Updated 5:55 p.m. ET
The currencies of the two largest Latam markets are now once again regaining strength, as evidenced by the appreciation of the Mexican Peso and the Brazilian Real.
Foreign exchange rates are very relevant to emerging market investors since the local markets are traded in the local currencies, hence foreign investors are exposed to currency risk. A strong local market return can be completely eroded away by a depreciation of the same magnitude in the local currency versus the foreign investor's currency (e.g. the U.S. Dollar). Likewise, a weak or even negative local market return can be turned positive for a foreign investor by a strong appreciation of the local currency.
Article continues below advertisement
Multi-currency indices are useful in comparing how currencies move against each other; such an index is released monthly by the Peruvian Central Bank. The data, indexed to 2009, is based on average exchange rates and consumer price indices reported to the International Monetary Fund. Values above 100 imply the foreign currency gained purchasing power relative to the PEN since 2009, while values below 100 imply the opposite. 
The latest data shows that Mexican Pesos has been gaining strength steadily since last year. Over the past two weeks, though, the Peso has hit a bump and depreciated almost 3% in that short time. This highlights the volatility and importance of foreign exchange risk for foreign investors.
The Brazilian Real gained some strength as well toward the beginning of the year, but has since plateaued. Other currencies, such as the Chilean Peso or the Colombian Peso, have been very slowly depreciating, which would erode returns for foreign investors. The Peruvian Sol itself has had a volatile past month, oscillating up and down as much as 2%.
Outlook
The region as a whole has seen a bump in currency strength during May, as disappointing emerging markets data eroded confidence in the local currencies and trade projections. The emerging markets weakness in general, combined with weakening currencies, are making May a tricky month to enter the Latin American equity markets.
Over the medium-term, the currencies may appreciate if emerging markets recover faster than the U.S., else the gains will come mainly from price appreciation – not currency gains. In the short-term, the currency volatility, as well as uncertain investor sentiment about recovery, makes investing in Latam a more risky gamble.
For those interested in hedging foreign exchange risk, there are certain ETFs, such as Deutsche Bank's db X-trackers, which include emerging markets in general (DBEM) and Brazil (DBBR).