The new Xbox Series X and Xbox Series S consoles from Microsoft are now available for purchase at most major retailers including Walmart, Target, and Best Buy. Xbox fans can also access a variety of Xbox One Black Friday deals. For example, Amazon, Walmart, and Newegg are offering generous Xbox One with Kinect Black Friday deals.
Article continues below advertisement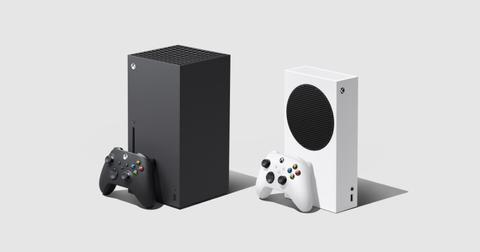 What is Kinect for Xbox?
Kinect is a device that Microsoft built to allow people to control their Xbox console with their voices and gestures. The first Kinect launched in November 2010 as an add-on for the Xbox 360 console. The original Kinect for Xbox was a major hit with more than 10 million units selling in just a few months.
Article continues below advertisement
Microsoft stopped manufacturing Kinect for the Xbox console in 2017. Instead, Microsoft offered a Kinect adaptor that allowed people to continue using Kinect with the new Xbox model. However, the Kinect adaptor project didn't last long and Microsoft discontinued it in 2018. Xbox fans can still purchase Kinect for Xbox on the secondary market.
Article continues below advertisement
Will Kinect work with Xbox Series X?
Xbox fans have a lot to like in the new Xbox Series X and Xbox Series S consoles, including a broad game variety. However, the Xbox Series X and Xbox Series S won't work with Kinect. Also, Kinect games won't be available on the latest Xbox consoles.
What is Target's Xbox Series X release time?
The Xbox Series X console is already available to buy online at Target. Due to the COVID-19 pandemic, Target isn't allowing customers to walk into its physical stores for the new Xbox consoles. Instead, the retailer only allows drive-up purchases and order pick up at its stores. Unlike Walmart and Best Buy, Target didn't set a specific release time for Xbox Series X. Instead, Target encourages customers to keep checking its website.
Article continues below advertisement
We don't have specific details to share at this time, but please continue to keep an eye on the website for updates. Thank you!

— AskTarget (@AskTarget) November 3, 2020
Xbox Series X Best Buy release time
Best Buy started selling the Xbox Series X console at 12:00 a.m. ET on Nov. 10, but only through its online shop. Customers can purchase the console online and pick it up at a Best Buy store near them. The Xbox Series X and Series S consoles sold out quickly on BestBuy.com as soon as the sale started.
Newegg Xbox Series X combo
Newegg started selling Xbox Series X and Xbox Series S consoles at 12:00 a.m. ET on Nov. 10. Because of high demand and limited supply initially, Newegg is only allowing customers to purchase one device. The company is offering a variety of Xbox Series X combo packages, which might make up for the restriction to purchase just one device. For example, Newegg combo packages will allow customers to purchase the consoles along with games and accessories.