AMC Stock Loses Steam on WallStreetBets—Time to Sell?
AMC Entertainment (AMC) stock has been very volatile this year. The stock hit its all-time lows in January. Since then, the stock has rebounded and is up almost 2,500 percent YTD. However, it has fallen 24 percent from the 52-week highs. Many investors wonder whether they should sell AMC stock before it falls more.
Article continues below advertisement
The rally in AMC Entertainment stock was driven by buying support from retail traders. Reddit group WallStreetBets triggered a short squeeze in the cinema chain company. This was the group's second attempt at a short squeeze in AMC stock and it was more successful than the last time. AMC stock moved to a higher price level than it was in short squeeze 1.0.
Article continues below advertisement
WallStreetBets moves on to new stocks
Despite the recent fall, AMC stock is over twice what it traded at the peak in short squeeze 1.0. However, after being the top discussion topic on WallStreetBets for many days, AMC has lost its position. WallStreetBets traders have shifted their focus to other stocks and Clover Health (CLOV) is the new heartthrob.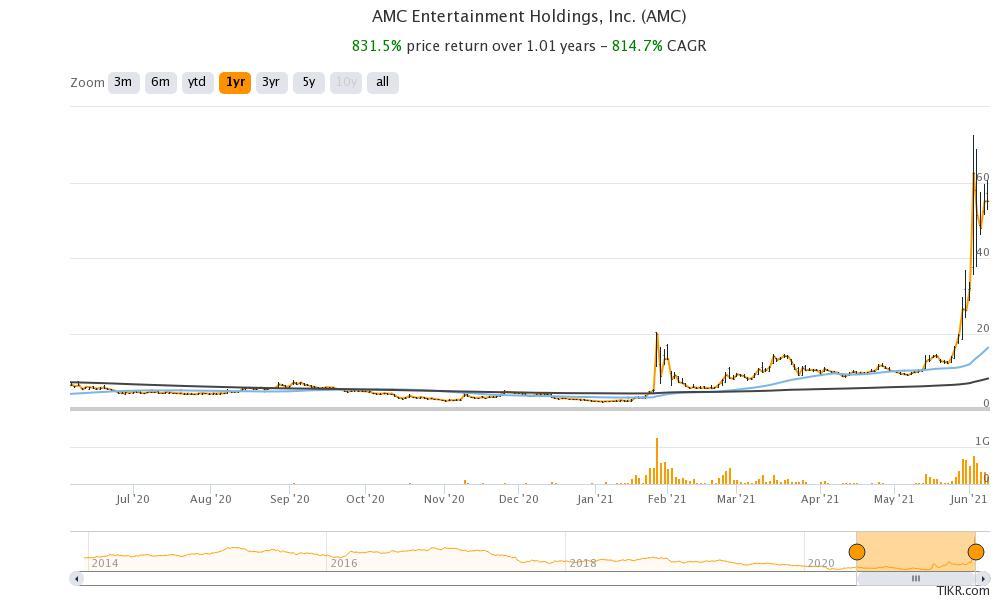 Article continues below advertisement
This week, Clover Health stock has more than doubled amid pumping from WallStreetBets. CLOV stock looked fundamentally undervalued before Reddit traders jumped in.
AMC stock forecast
The forecast for AMC stock is very bearish if you believe in analyst ratings. According to data compiled by CNN Business, the stock's median target price is $3.70, which is a discount of over 93 percent over the current prices. It trades at over 3x its highest target price of $16. Among the 10 analysts covering the stock, six recommend a hold, while four recommend a sell or some equivalent.
Article continues below advertisement
Last month, B. Riley downgraded AMC stock. The brokerage was the lone bull on the stock, but even it couldn't justify the stock's soaring valuations.
How high could AMC stock go?
When sentiments and speculation drive asset prices, they can go to almost any level. Reddit traders aimed to take AMC stock to $100. It could have risen to that level because momentum was on its side. However, as expected, AMC Entertainment decided to go for a share issuance to raise money.
Article continues below advertisement
This isn't the first time that the company has tried to capitalize on the rise in its stock to sell more shares. Looking at its cash burn, high debt load, and deferred rent payments, it might need to raise more cash in the future by selling shares.
Article continues below advertisement
Best price to sell AMC stock
AMC stock looks like a sell at these prices. Pumping from WallStreetBets took the stock way above its fundamental value. Now, with Reddit traders looking at other stocks, AMC has lost steam on WallStreetBets, which might be reflected in the stock price sooner rather than later.
Article continues below advertisement
Should I buy AMC stock?
It isn't possible to build a case for buying AMC stock at the current prices. While most of AMC's cinemas have reopened in the U.S., it's still burning a lot of cash. Also, in order to survive and bridge the cash burn, the company has taken on a lot of debt and issued shares in a frenzy.
The share issuance has led to dilution. To justify its valuations, AMC Entertainment would have to post a lot higher earnings than it did before the COVID-19 pandemic. With the popularity of streaming services rising, that looks like a tough proposition.